If you are a bike touring enthusiast and you are looking for new travel destinations to cycle safely and discover new places, you are in the right place.
In this article we will show you some of the most interesting destinations for cycle tourists, in different parts of the world, whether in Italy, Europe or overseas.
Riding your bike is a great way to travel slowly and sustainably, to get in touch with nature and the people you meet along the way. Each destination that we at Bikeit recommend you has been chosen to offer you a unique and unforgettable experience, with breathtaking views and historical places to discover.
Whether you are an experienced cyclist or a beginner, you will find the right travel destinations for you to enjoy a safe and fun experience on your bike. So, get ready to discover new places and enjoy a unique experience on your bike, thanks to our specially selected destinations.
What are you waiting for? Take a bike trip to one of the travel destinations offered by Bikeit, among:
Italy: among the most popular travel destinations
Italy is one of the most popular cycling travel destinations in the world. With its natural beauty, cultural richness and variety of landscapes, the country offers a wide range of opportunities for cyclists of all levels.
Scenic coastal roads, green hills and imposing mountains create breathtaking scenery that make your cycling holidays in Italy unforgettable.
In addition, Italy is endowed with an extensive network of cycle routes, connecting cities, towns and regions. These routes offer cyclists a safe and pleasant experience, passing through places of great historical and cultural interest.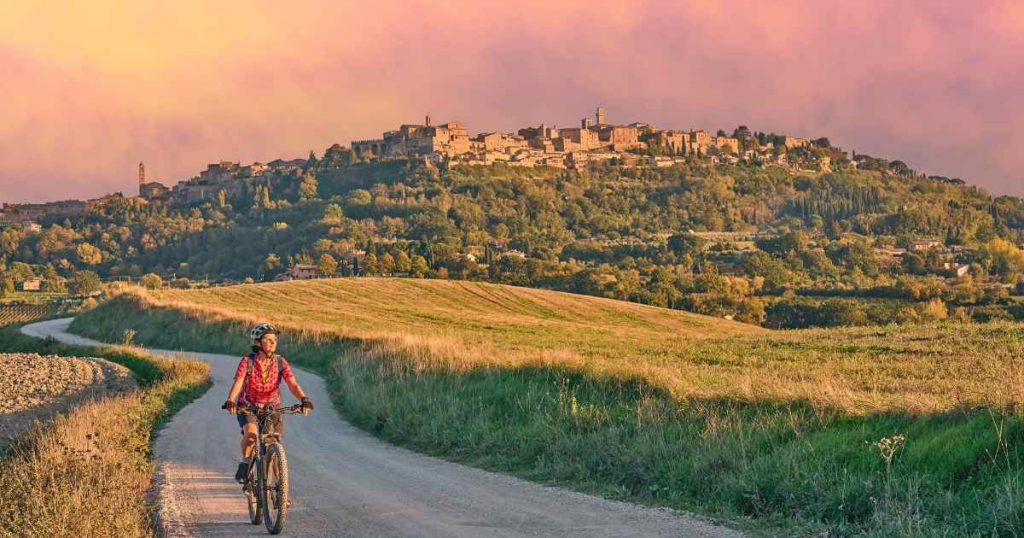 The most popular regions for your cycling trip in Italy include Abruzzo, Lombardy, Marche, Piedmont (such as the Langhe route), Sardinia, Tuscany, Trentino-Alto Adige and Veneto, but the 4 most popular travel destinations are definitely:
1. Sicily: cycling between sea and mountains
Sicily is a land of many facets and two wheels are the ideal way to discover its natural beauty. Cycling between the sea and the mountains means admiring breathtaking views and discovering unique travel destinations.
Each location offers spectacular coastal routes to enjoy the view of the Mediterranean while cycling. Along the coast, one can discover enchanting beaches and hidden coves, such as the Zingaro Nature Reserve, San Vito Lo Capo, Cefalù, Taormina and Syracuse.
But the bicycle is also the ideal means to explore the Sicilian hinterland, crossing natural parks such as the Nebrodi, Madonie, Etna and the Valley of the Temples in the Agrigento area. Here, cyclists can tackle challenging routes through hills, valleys and mountains, or choose quieter but still very scenic routes.
In any case, visiting Sicily by bike, be it the eastern, central or western part, one can discover the beauty of a unique territory, coming into contact with the island's unspoilt nature and millenary history.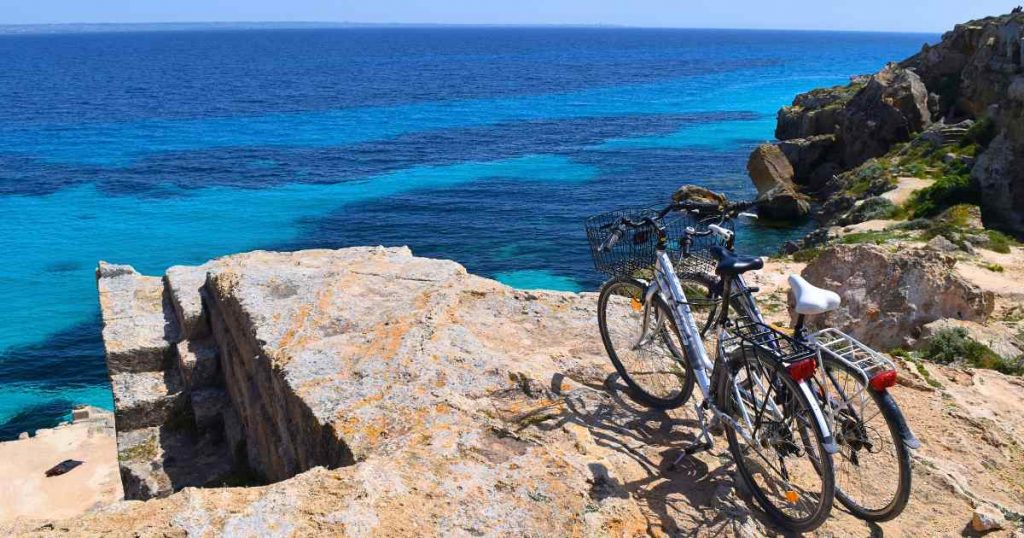 Book your Sicily bike trip now
2. Emilia Romagna: between nature, culture and gastronomy
Emilia Romagna is a region in northern Italy, known for its cultural richness, beautiful nature and delicious gastronomy.
The region boasts numerous tourist attractions, including beautiful art cities such as Bologna, Parma and Ferrara, with their medieval and Renaissance architecture, and the Riviera Romagnola, one of the country's most famous seaside destinations.
But Emilia Romagna is also a region that offers many opportunities for nature lovers, with its hills and mountains, its nature parks and the Po Valley. Thanks to an extensive network of bicycle paths, but especially thanks to the route along the Po Delta, it is possible to explore the region by bicycle, admiring the breathtaking landscapes and discovering hidden treasures along the way.
But not only nature and culture, Emilia Romagna is also famous for its delicious gastronomy. The region is home to some of Italy's best cuisine, with dishes such as fresh pasta, Parma ham, Parmigiano Reggiano cheese and Lambrusco wine.
In summary, visiting Emilia Romagna by bike is a way to discover culture, nature, gastronomy and beaches. This region is an ideal tourist destination for those who wish to discover Italy in all its facets.
3. Liguria: one of the most fascinating travel destinations
Visiting Liguria by bike is an experience not to be missed, because the region is one of the most fascinating cycling destinations in Italy. Thanks to its geographical location between the sea and the mountains, it offers breathtaking landscapes and cycling routes suitable for all levels of ability.
Cyclists can bike along the Ligurian coast, admiring the crystal-clear sea and picturesque coastal towns, or brave the inland hills, passing through medieval villages and enjoying spectacular views.
Liguria is also famous for its cuisine, which includes fresh fish dishes and local delicacies such as pesto alla Genovese and extra virgin olive oil. In addition, the region is rich in history and culture, with numerous historical sites and museums to visit.
There is no doubt that Liguria is an ideal destination for a cycling adventure combining sport, nature and culture.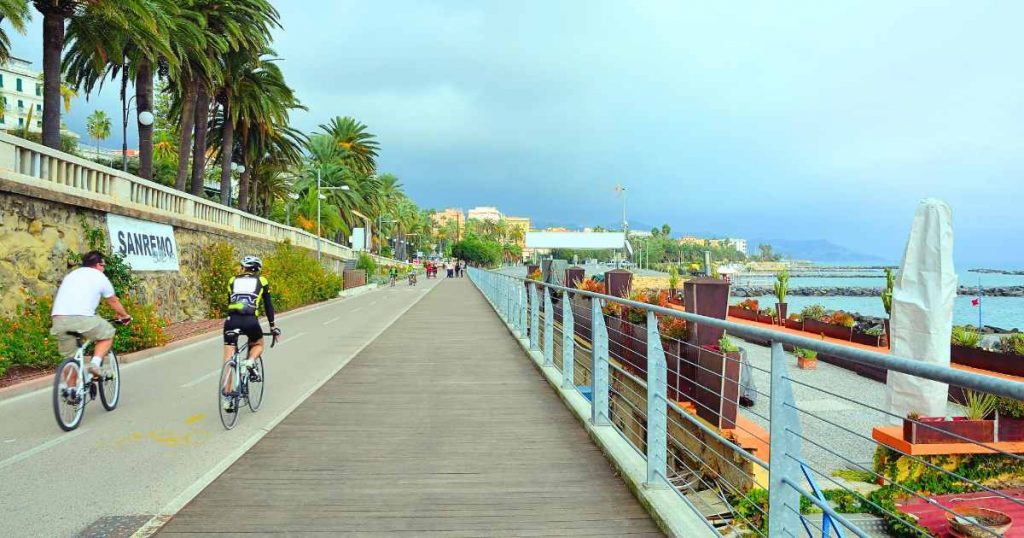 4. Umbria by bike: discovering the most beautiful villages
Umbria is a region rich in history, culture and natural beauty. One of the best ways to explore it is by bike, because it allows you to completely immerse in nature and admire the beautiful Umbrian villages.
The region boasts an extensive network of cycling routes, passing through beautiful landscapes and scenic routes. Among the most beautiful villages to discover in Umbria by bike are Spello, Montefalco, Bevagna, Gubbio, Todi, Orvieto and Spoleto, each with its own history, tradition and unique beauty. Cycling between these towns, you can enjoy breathtaking views, authentic scents and flavours, and an enchanted atmosphere that makes you feel you are in another era.
Moreover, Umbria is famous for its hospitality and the warm welcome of its inhabitants, who will make you feel at home. All in all, a cycling holiday in Umbria is an unforgettable experience that allows you to discover the region in an authentic and immersive way.
Europe by bike: a country to discover
Visiting Europe by bike is a unique experience that allows you to discover breathtaking landscapes, thousand-year-old cultures and unique culinary traditions. Central, southern and eastern Europe all offer an endless variety of cycling routes and travel destinations to explore.
From the mountains of Austria to the Spanish coast, from the medieval cities of France to the beaches of Greece, there is so much to discover and experience while riding your bike.
Get ready to cycle through enchanting landscapes and marvel at the hidden beauty of these regions, ready for an unforgettable cycling adventure.
1. Central Europe
Central Europe offers a varied and fascinating landscape, but also a history and culture that is reflected in the architectural diversity of towns and villages.
Central Europe is also famous for its excellent network of cycle paths, which connect many of the region's major cities and tourist attractions, so whether you are an experienced cyclist or a beginner, touring Central Europe by bike is an unforgettable experience that will allow you to explore this region in a sustainable and unique.
Among the most popular travel destinations in Europe are Germany, Slovakia, Switzerland and Hungary, but the most visited are definitely:
Austria by bike: the perfect way to discover the country
Austria is a true paradise for cyclists, thanks to its extensive network of cycle paths stretching over thousands of kilometres, through cities, countryside and mountains.
The Austrian cycling network is well signposted and maintained, with routes suitable for all levels of ability. For example, the Danube cycle path (Donauradweg) is one of the most famous in Europe, over 1,200 km long, but also well-known are the Tauern and Lake Constance cycle routes.
What are you waiting for? A holiday in Austria by bike is an unforgettable experience that everyone should try.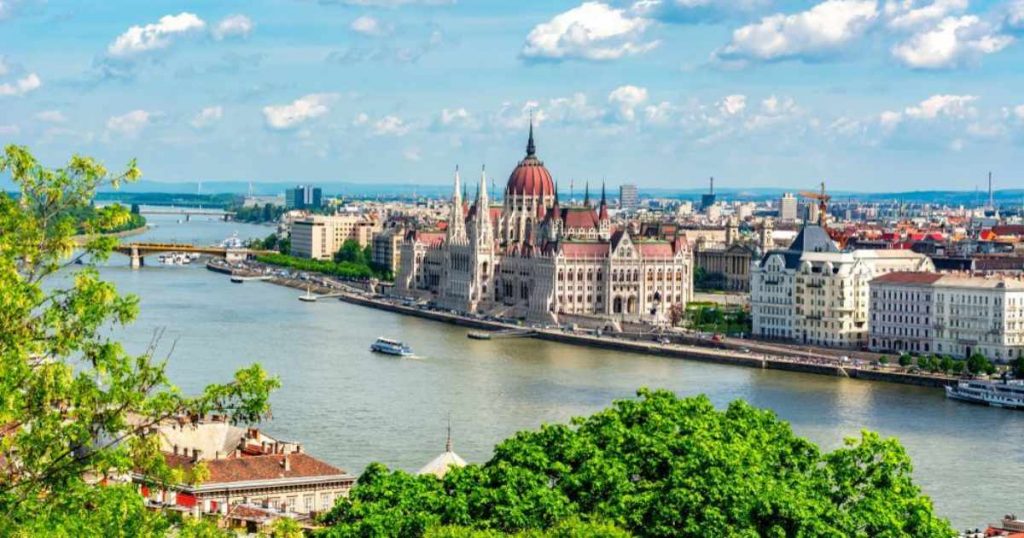 Book your cycling trip to Austria now
France: Among the most visited travel destinations
France has always been one of the most visited travel destinations in the world, thanks to its cultural, artistic and natural wealth.
In particular, the transalpine country has become increasingly popular with cycling enthusiasts, thanks to the presence of many scenic cycle paths that pass through beautiful landscapes and attractive locations.
Among the most popular destinations there are the Canal du Midi, an ancient waterway through south-western France, the castles of the Loire, a must for lovers of art and history, the Alsace vineyards, renowned for their fine wine, and the Canal de la Garonne, which connects the city of Toulouse to the Gironde estuary, offering beautiful views of the French countryside.
Thanks to this variety of routes, tourists can discover France by bike in a sustainable way, in contact with nature, enjoying all the wonders this country has to offer.
2. Southern Europe
Southern Europe is a region rich in history, culture and breathtaking landscapes. Among its most precious gems are Spain, Portugal and Greece, three countries that offer a unique and unforgettable experience for those wishing to explore this part of the world.
Spain offers a combination of Moorish architecture, Gothic cathedrals and tasty tapas. But what is most fascinating about the Spanish territory are the numerous cycle paths and scenic trails, including the Vía Verde, an old disused railway converted into a cycle path that passes through beautiful natural and rural landscapes.
Another route to take in Spain by bike is the Camino de Santiago, a pilgrimage of more than 800 kilometres through northern Spain. This route is very popular with cyclists around the world and offers a great challenge, both physical and spiritual.
Portugal, on the other hand, is famous for its picturesque coastal towns and delicious seafood cuisine, while Greece is the ideal place to immerse yourself in ancient mythology and enjoy breathtaking views of the Aegean Sea.
On this journey through Southern Europe, you can discover the hidden treasures of these three countries and create unforgettable memories.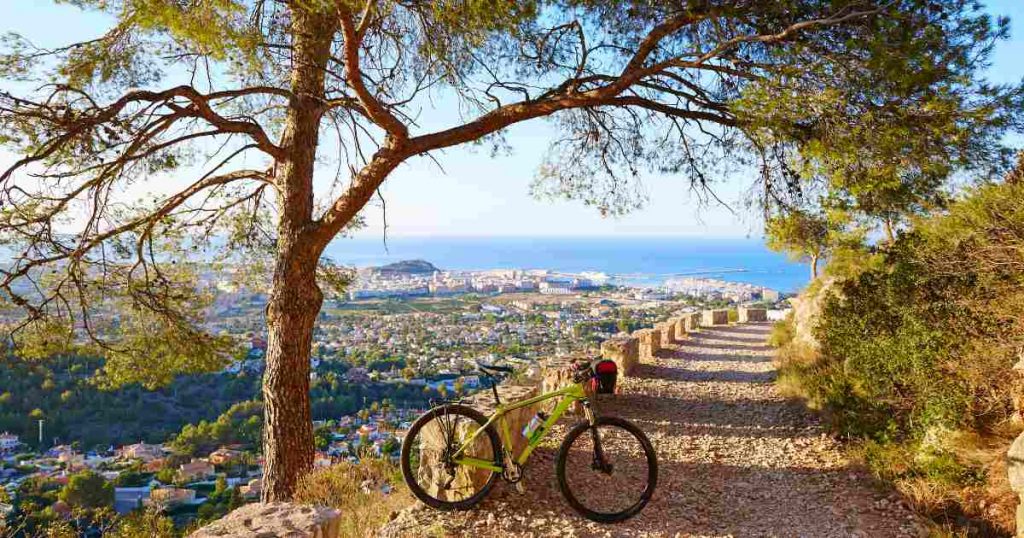 3. Eastern Europe
Estonia, Latvia, Lithuania and Romania are four Eastern European countries that offer a variety of unique experiences for cyclists.
Estonia: a travel destination for nature lovers
In Estonia, the capital Tallinn is a fascinating city to explore by bicycle, with its medieval streets and magnificent UNESCO heritage centre. The Estonian coast also offers incredible coastal landscapes and the islands of the Saaremaa archipelago are an ideal place for nature lovers.
Latvia: a medieval country
In Latvia, the capital Riga is a city of extraordinary beauty, with a mix of art nouveau and medieval architecture that makes it unique. Cyclists can bike through the Gauja National Park, the Daugava River Valley and the Baltic coast.
Lithuania: between history and culture
Lithuania, with its capital Vilnius, is also rich in history and culture. You can cycle through the Aukstaitija National Park, cycle along the Baltic Sea coast, or visit the sand dunes of Neringa.
Romania: the famous Transfagarasan cycle path
Finally, Romania offers a completely different cycling experience from the other three countries. The Transylvania region is famous for its natural beauty, with its mountains, valleys and traditional villages. Here, cyclists can follow the famous Transfagarasan cycle path, ride through the forests of the Retezat National Park or cycle along the banks of the Danube.
Are you undecided where to go? Book your bike trip with Bikeit and choose the route through Estonia, Latvia and Lithuania. Take now advantage of the complete packages, with hotel, luggage transport and much more included in the price.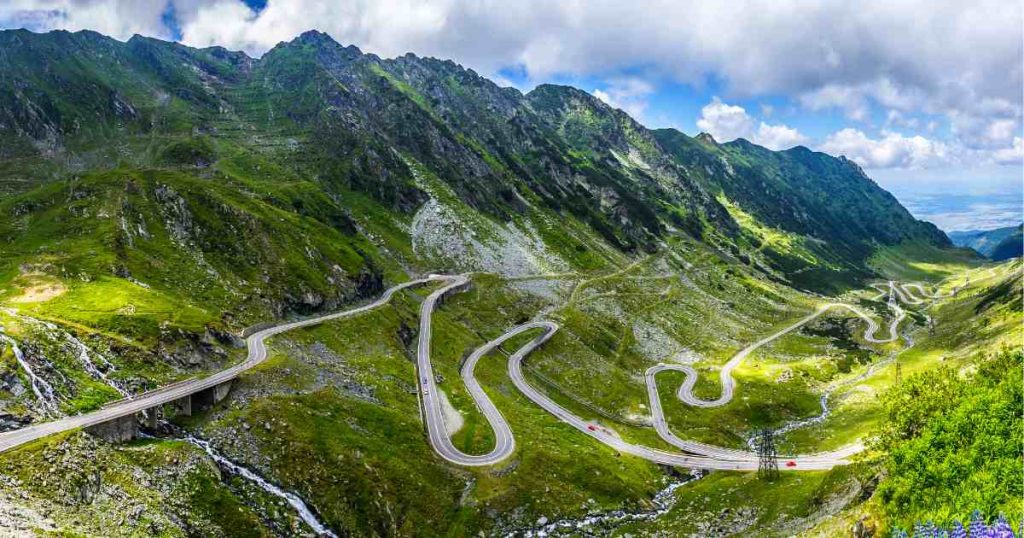 South-East Asia: cycling and adventure
South East Asia is a region rich in natural and cultural beauty that can best be discovered on a bicycle. In particular, Vietnam and Cambodia offer attractive and fascinating cycling routes.
To visit Vietnam by bike, we advise you to cross the country from north to south along the legendary National Highway 1, discovering the colonial cities of Hanoi and Hue, the pristine beaches of Da Nang and Nha Trang and the breathtaking landscapes of Ha Long Bay and the Mai Chau Valley.
In Cambodia, however, cyclists can ride through the rural villages along the Mekong River and visit the famous temples of Angkor, including the famous Angkor Wat temple.
In both countries, cycling is the ideal way to immerse yourself in the daily life of the locals and discover the hidden treasures of these fascinating nations.
Great Britain – Ireland
Great Britain and Ireland offer some of the best cycling opportunities in the world, with breathtaking scenery, scenic roads and unique traditions.
Among the most popular routes are the Ring of Kerry and the Dingle Peninsula, both located on Ireland's west coast:
The Ring of Kerry, with a length of about 179 kilometres, is one of the most famous cycle routes in the world, offering spectacular views of the mountains, sea and Irish countryside.
The Dingle Peninsula, on the other hand, is a lesser-known but equally fascinating travel destination, with its narrow, winding roads meandering along the coast, passing picturesque villages, ancient ruins and remote beaches.
On both routes, cyclists can enjoy an authentic experience, meeting the citizens, sampling the local cuisine and admiring Ireland's natural beauty.
North Africa: among the most unusual travel destinations
North Africa is a region that offers many opportunities for cycling enthusiasts. Morocco and Tunisia are two countries in particular that offer incredible cycling experiences, with breathtaking landscapes and a mix of culture, history and traditions.
Morocco, with its mountains and coastline, is an ideal place for cycling. There are many scenic roads offering spectacular views of the Atlas Mountains and the Sahara Desert. In addition, imperial cities such as Marrakech, Fez and Meknes offer many opportunities to explore Morocco's culture and history.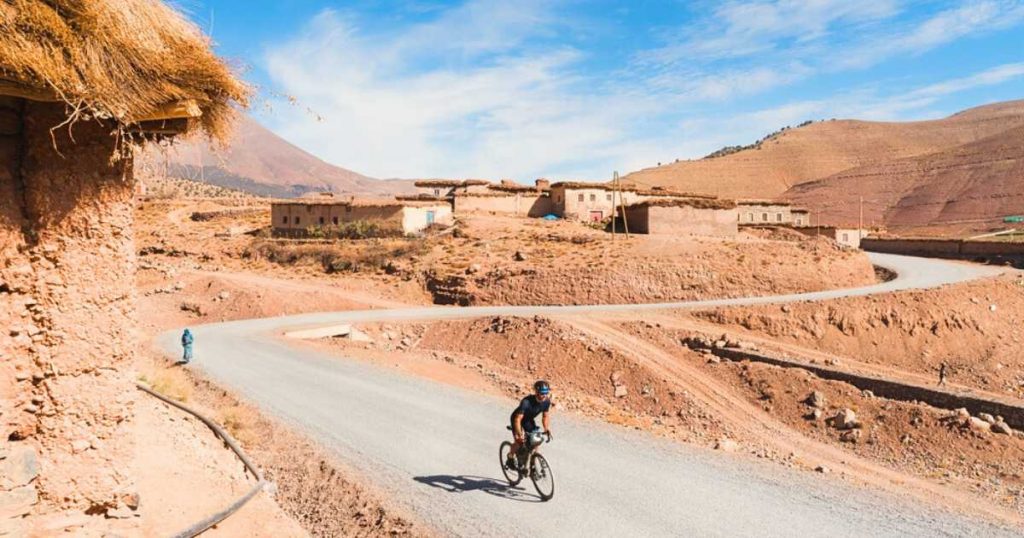 Tunisia is another North African country that offers a unique cycling experience. Tunisia's coastline offers a warm climate and breathtaking views of the Mediterranean. In addition, ancient cities such as Carthage, El Jem and Dougga offer an opportunity to explore Tunisia's history and culture.
In both countries, it is important to take into account the temperatures and the time of day when cycling, as the heat can be intense in some areas. However, with proper preparation and attention to weather conditions, North Africa can offer an unforgettable cycling experience.
The best travel destinations only on Bikeit
So, are you ready to put your passion for cycling to the test? Are you looking forward to explore some of the world's most spectacular travel destinations?
There is nothing better than booking a bike trip through Bikeit, the quick and easy online booking platform, where you can find the perfect complete package for you, including hotel, luggage transport stage by stage and much more.
Whether you want to bike along the coast of Spain, cross the villages of the French Alps or explore the hills of Tuscany, Bikeit has something for you.
What are you waiting for? Book your next bike trip with Bikeit now and set off to discover breathtaking landscapes and unforgettable adventures.