If you are wondering which bike accessories are best suited for your bike trip, you are in the right place.
Bike touring has become an increasingly popular way to explore new places and enjoy the landscape. This activity can be practised by people of all ages and fitness levels, thanks to the possibility of choosing routes suited to their abilities.
But, for those who enjoy cycling, having the right equipment for your travel bike can make the difference between an enjoyable ride and a strenuous one. Bicycle accessories, specifically for bike touring, can in fact help make the experience more comfortable, offering multiple benefits.
In this article, we will explore some of the cycling equipment that can improve your cycling experience.
After reading these tips on bike accessories, you will surely be ready to book your bike trip with Bikeit.
Cycling accessories: what they are used for and why they are important
Many of the cycling-specific equipment are designed to make the experience more comfortable, safe and enjoyable, improving the transportation of equipment and protecting the cyclist from the unforeseen events.
For example, bike bags and panniers can hold everything you need for the trip, from provisions to camping equipment.
In addition, saddles, handlebars and pedals can be designed to increase comfort in the bike seat, reduce fatigue and prevent injuries.
Some accessories, such as shoe covers and glove covers, can also protect against the weather, providing a more comfortable experience in the wet or in the cold.
But let's deepen into the importance of all these bicycle accessories:
Bags and pouches: the essential bicycle accessories
Bike panniers and bags are essential cycling accessories, as they allow you to carry everything you need for your bike trip.
There are different types of bags and pouches available, depending on the needs of each cyclist:
Handlebar bags are perfect for storing valuables such as your wallet, keys or mobile phone. Some models also have a transparent window that allows you to use the mobile phone without having to take it out of the bag.
Side bags can be used to hold clothes, provisions and equipment such as sleeping bags and tents.
Rear panniers are ideal for cycle tourists travelling for several weeks or months, as they have a large load capacity. They can be attached to the rear rack of the bike and offer a greater load capacity than side bags.
Frame bags, on the other hand, are designed to hold smaller items, such as tools and spare parts.
Many bicycle bags and pouches are made of water-resistant materials, which protect the contents from rain and moisture. In addition, some models are equipped with straps and secure fasteners to ensure that the load remains firmly attached to the bicycle.
So, bags and pouches are part of the indispensable cycling accessories that make your bike trip more comfortable and enjoyable, keeping your travel kit safe and dry while cycling.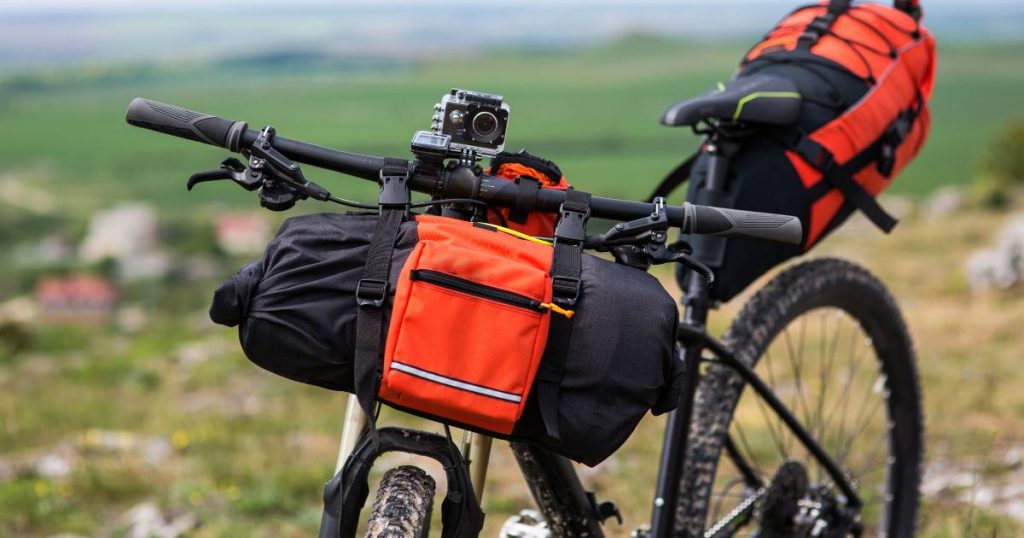 Comfort on your bike seat: saddles, handlebars and pedals
Comfort on the saddle is an essential part of a comfortable and enjoyable cycling experience, so it is important to have a bike seat, handlebars and pedals that meet your needs.
The perfect seat for your bike
The bike seat is one of the most important accessories for comfort, as its design affects the position of the rider's body and weight distribution. A good saddle therefore makes the difference between a pleasant bike ride and a painful one.
Wider, padded bike seats offer a greater support surface and reduce pressure on the ischial bones, while narrower, lighter saddles are ideal for cyclists seeking greater freedom of movement.
The ideal handlebar
The handlebar is also important for comfort on the saddle, as it affects the position of the rider's body and the distribution of weight on the hands and wrists.
Handlebars can come in different shapes, from flat to curved, and can have different widths. Wider handlebars can offer a more stable riding position and a greater support surface for the hands, while narrower handlebars can offer greater freedom of movement.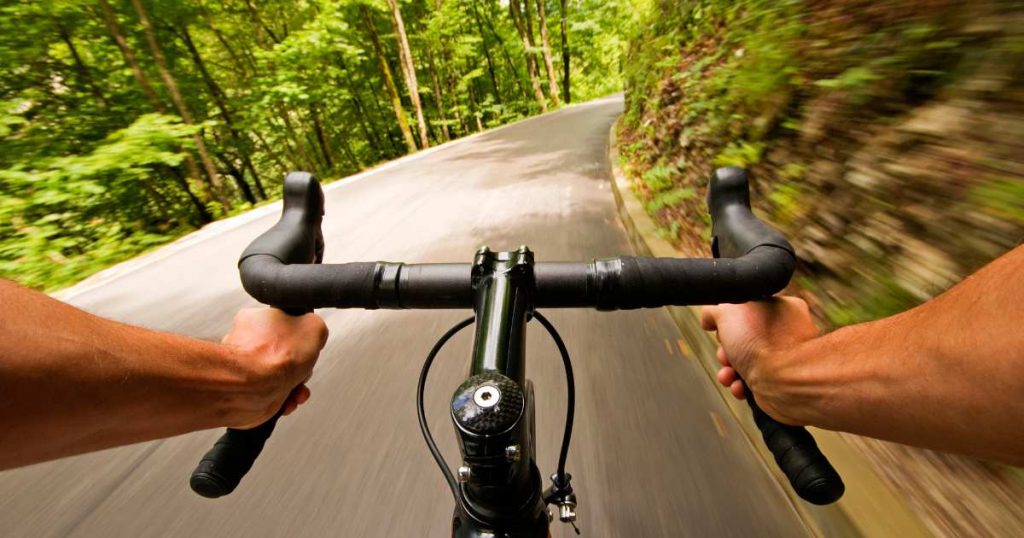 The choice of pedals among bicycle accessories
Finally, the pedals are important for comfort in the saddle because they affect the position of the feet and pedalling stability. The pedals can be flat or quick release, and can be fitted with straps or cleats for greater foot stability.
Flat pedals offer greater freedom of movement, while quick release pedals allow a more efficient pedaling.
In summary, the choice of the bike seat, handlebars and pedals is essential for comfort in the saddle while cycling. It is important to choose bicycle accessories that meet your needs for comfort and stability, so that you can bike for long periods without fatigue or muscle pain.
You will see that with the right accessories, you will make your touring bike your favourite means of transport.
Sun and rain: bicycle accessories against the unforeseen events
When biking, the weather can be an unpredictable factor and there may be rain or intense sunshine. For this reason, it is important to be prepared with the right bicycle accessories in order to face severe weather.
There are some specific accessories that can be installed on the bicycle to protect against sun and rain:
In the rain: it is advisable to use mudguards, which help prevent water from splashing on the cyclist's back and face. There are different types of mudguards, from plastic to metal, and the choice depends on the type of bicycle and riding style.
In the sun: a bicycle sunshade is an option. These accessories can be attached to the handlebars and create a sort of umbrella above the cyclist's head, offering greater protection from the sun.
So, when facing a bike trip, it is important to be prepared for all eventualities, including bad weather. Anti-weather cycling accessories can help keep the cyclist dry and protected from the sun, thus improving the travelling experience.
Cycling with children: best bicycle accessories
A bike trip with children can be a very fun and rewarding experience for the whole family, but it also requires some specific equipment to ensure the safety and comfort of the little ones.
One of the most important accessories is certainly the child seat, which is assembled on the bicycle and allows children to be transported safely. The seats are available in different shapes and sizes.
Another option is the tow bike, which allows children to actively participate in the ride and have fun during the journey. This type of bicycle has a platform on which the child can rest his or her feet and help the parent pedal, or simply enjoy the ride while sitting on the saddle.
It is therefore important to choose accessories according to the age of the children and the type of bike used, to ensure a safe and fun cycling experience for the whole family.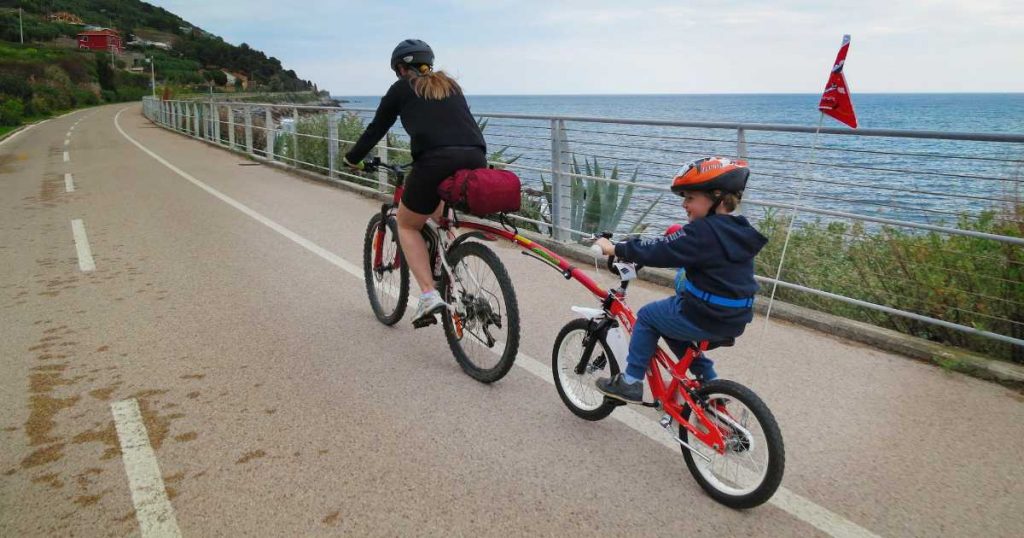 Book your bike trip
With these bicycle accessories, no one can stop you.
You will see that, by choosing the right equipment for your bicycle, facing a bike trip will be much easier than expected.
All you have to do is choosing the bike route that suits you and set off on this new adventure on two wheels.