Bike touring in Italy is becoming increasingly popular due to the beauty of the landscape, culture, gastronomy and the possibility of moving around in a sustainable manner.
Especially since the pandemic, many people have rediscovered the beauty of exploring our country by bicycle, and many destinations have adapted to accommodate bike tourists. More and more people decide to go on bike trips every year.
In this article, we will explore the current situation of cycle tourism in Italy, its advantages, the challenges it faces and the opportunities for the future.
Bike touring in Italy: current data and trends
Bike touring in Italy is growing steadily, with more and more people choosing cycling as a means of transport for their holidays.
Here, we will explore current data and trends of bike touring in Italy, highlighting how many Italians cycle, analysing the frequency and duration of Italians' biking practices, but also understanding what factors influence the destination of cycle tourists.
How many Italians cycle in Italy?
As mentioned earlier, the COVID-19 pandemic has influenced the way Italians choose to spend their holidays and this has led to an increased interest in bike touring.
Many people preferred to avoid crowded places and turned towards holidays in the open air, in contact with nature and riding a bike.
In fact, around 5 million Italians cycle every year, i.e. they have done at least one bike trip. This number is steadily increasing, especially compared to pre-pandemic times, when fewer than 4 million Italians were biking.
If you too are a bike tourist or want to become part of this world, what are you waiting for?
Book one of our bike trips
Who are the bike tourists?
To better understand the practice of bike touring in Italy, it is first important to understand who bike tourists are and then, specifically, what are the three main categories of cycle tourists in Italy:
Traditional bike tourists, who prefer flat routes and long stays
Sporty cyclists seeking more demanding and challenging routes
Bike tourists who appreciate stops at places of culinary and wine interest.
Factors influencing the destination of bike tourists
The choice of destination is one of the most important factors for bike tourists and depends on several elements:
The beauty and variety of landscapes: Italian regions offering breathtaking scenery, such as the Dolomite mountains or the Mediterranean coasts, are often the favourite destinations of bike tourists.
The presence of quality biking routes and infrastructure: bike tourists look for safe and well-marked routes with dedicated cycle paths and the possibility to rent bicycles and equipment.
The presence of excellent tourist and hospitality services, such as bike hotels and restaurants: bike tourists look for places where they can enjoy a comfortable stay and services dedicated to their needs, such as bike storage, laundry, availability of maps and tourist guides.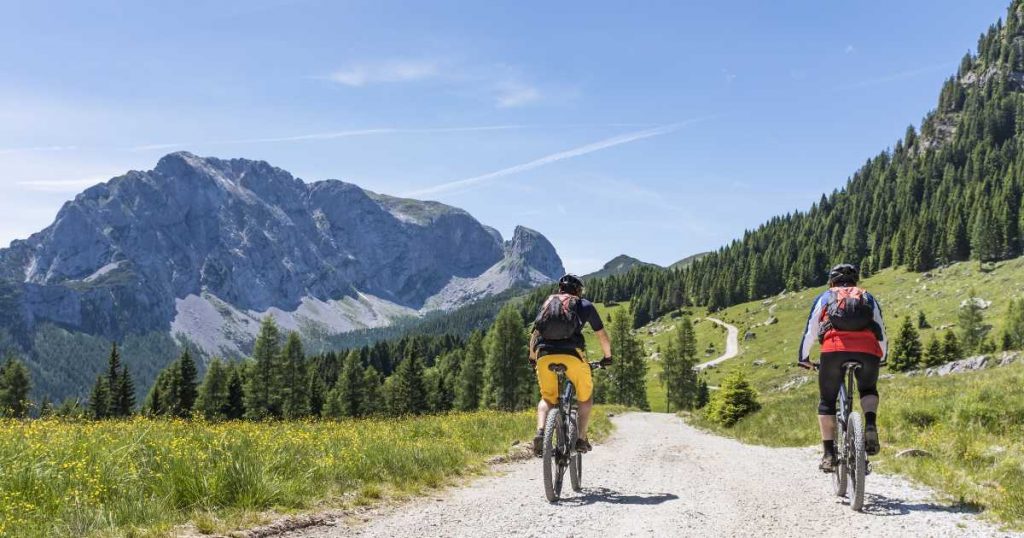 The 3 best regions to practice bike touring in Italy
Italy is a country that offers lots of opportunities for two-wheel enthusiasts. In fact, bike touring offers the opportunity to discover the beauty and variety of landscapes while riding your bicycle.
The Italian regions that most attract cyclists for an unforgettable bike trip are:
1. Tuscany: a fascinating cycling destination
Tuscany is one of the most popular regions for biking enthusiasts. The beauty of its landscapes, rich cultural and artistic heritage, rolling hills and quiet roads make it an ideal destination for cycle tourists from all over the world.
Art cities such as Florence, Pisa and Siena, the Val d'Orcia, Chianti, the Maremma and Versilia are just some of the destinations that can be visited by bicycle in Tuscany. The region also offers numerous cycle paths, mountain bike routes and racing bike trails.
2. Piedmont: between nature, wine and gastronomy
Piedmont is another popular destination for Italian and foreign cycle tourists. The region offers a great variety of landscapes, from the Alps to the Monferrato, from Lake Maggiore to the Langhe.
The region is famous for its fine wines such as Barolo, Barbaresco, Nebbiolo and Barbera, but also for its delicious cuisine and typical products such as white truffles, cheeses, meat and desserts.
In Piedmont, you can find many bike routes, food and wine itineraries and scenic roads perfect for a bike trip.
3. Sicily: between sea, history and nature
Sicily is an increasingly popular destination among Italian and foreign bike tourists. The region offers a great variety of landscapes, from the coast to the mountains, from natural parks to cities of art.
By bicycle, you can discover the beauty of Mount Etna, the beaches of San Vito lo Capo, the Egadi Islands, Baroque cities such as Noto and Ragusa, and much more. Sicily also offers numerous bike routes, thematic itineraries and services for cyclists such as bicycle hire and accommodation in attractive locations.
Admit that you are intrigued and can't wait to visit one of these beautiful locations on your bike! On Bikeit there are plenty of routes that will leave you speechless, both in Italy and abroad.
Take a look at all the bike routes we have on Bikeit.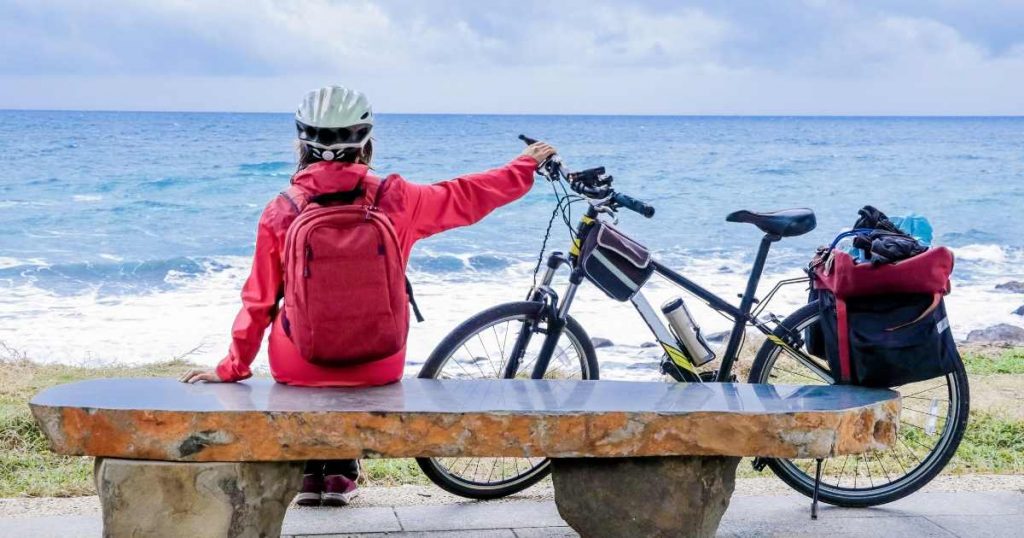 Bike touring in Italy as a form of sustainable tourism
Bike touring is not only an option for outdoor holidays, but also a way to promote sustainable development and enhancement of Italy's cultural heritage.
Indeed, bike touring has very good future prospects as a form of sustainable tourism, for the following reasons:
1. Bike touring does not pollute
One of the main advantages of bike touring is its low environmental impact.
The bicycle is a completely environmentally friendly means of transport that emits no harmful gases into the atmosphere and produces no noise. In this way, bike touring helps to preserve the natural environment, reduce air and noise pollution, and limit road congestion.
All this makes bike touring a sustainable form of tourism that respects the environment and local communities.
2. Bike touring does not damage the landscape
Bike touring is also a sustainable form of tourism that does not damage the natural and cultural landscape.
Unlike other means of transport, the bicycle does not leave obvious traces on the land, such as paved roads, car parks and invasive signage.
In this way, bike touring promotes the protection and enhancement of Italy's natural and cultural heritage, without compromising the beauty of places and the visitor experience.
3. Bike touring promotes a healthy lifestyle
Bike touring promotes a healthy and active lifestyle, in line with the global trend towards promoting health and well-being.
Cycling long distances helps to maintain fitness, increase endurance and improve blood circulation. From a mental point of view, bike touring can also be an opportunity to break away from the daily routine, to relax and to enjoy moments of contemplation and reflection.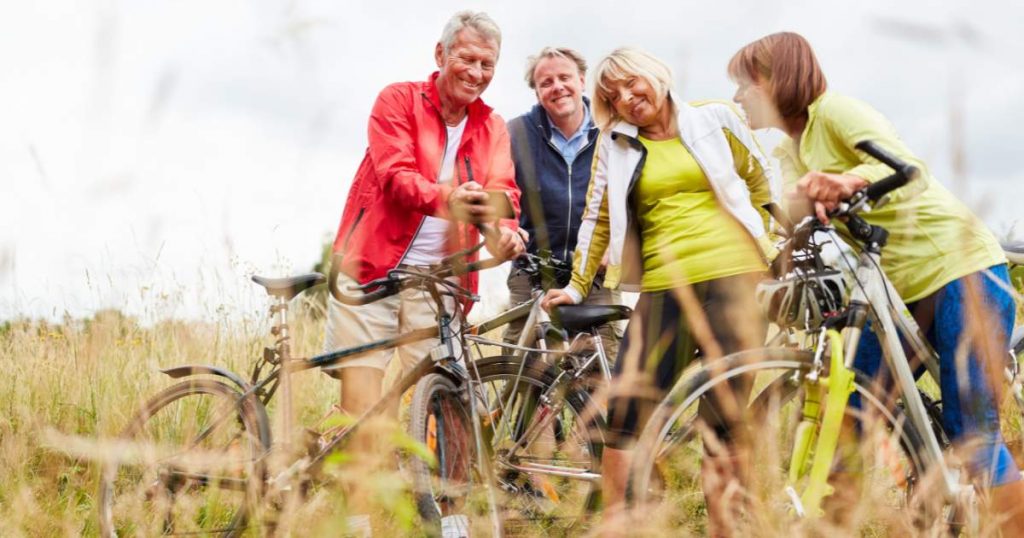 If sustainable tourism is a topic close to your heart and you want to find out more, read also:
"Sustainable tourism: bike touring as a virtuous example"
Book your bike trip with Bikeit
Thanks to Bikeit, you can travel the world by booking online your bike trip quickly and easily.
Bikeit offers a huge variety of bike routes and allows all categories of cycle tourists to travel the world by bicycle.