A bike trip with children is a fun and adventurous experience that can be very rewarding for the whole family, but above all a memory that will remain in the hearts of all family members forever.
A bike trip can also be the best way to get away from the busy, chaotic and thought-provoking life. Often, however, people are forced to forego such a trip because they are inclined to pursue other activities, which are considered safer and more engaging for their children. But, not everyone knows that, facing a bike trip with children can also be a great lesson for the little ones, who will surely understand that each destination must be conquered one kilometre at a time.
Travelling by bicycle offers a unique opportunity to explore new destinations, to connect with nature and to spend quality time together, thanks to routes suitable for all ages and away from traffic.
Of course, travelling by bicycle with children requires certain precautions to ensure that the trip is safe and enjoyable for everyone. For this reason, Bikeit has created this small guide to get you through the whole experience in the best way possible.
Here are the 8 things that you need to know before going on a cycling holiday with children:
1. Buy the appropriate equipment
Before planning and organizing your bike trip, it is necessary to provide yourself with all the appropriate equipment: comfortable shoes, cycling trousers, sports shirts, a wind jacket and a small repair kit are just some of the essential things for a cycling trip.
You might also consider buying bicycle seats or trailers (depending on the age and level of your children), which can make the journey more comfortable for the little ones.
Read also: 'Travelling by bike: the travel kit for your bike trip'.
2. Prepare the children for the activity
To ensure that your children are ready to face a bike trip without any difficulties, it is a good idea to make them practice, before setting off on a completely new adventure for them.
A good idea would be to take your children on short bike rides on quiet roads or in nearby parks, so you can also assess whether they need any aids, such as child seats or trailers.
If you see that they have difficulties, don't worry because, as with all things that you try the first few times, it takes practice in this too. Give them time and you will see that they get better and better with every passing minute.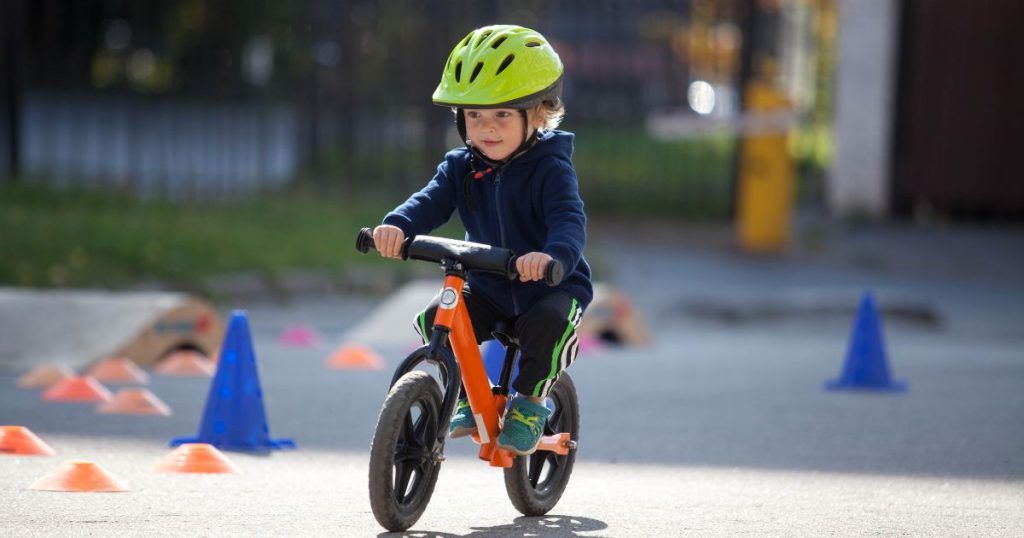 3. Involve children in planning the cycling holiday
The third important step is to involve the children in the planning of the trip, showing them what activities and destinations to visit, to see which they find most fascinating and fun. This step is essential even if the children are very young, because it is a great way to increase their participation, making them feel more involved and passionate about the idea of a cycling holiday.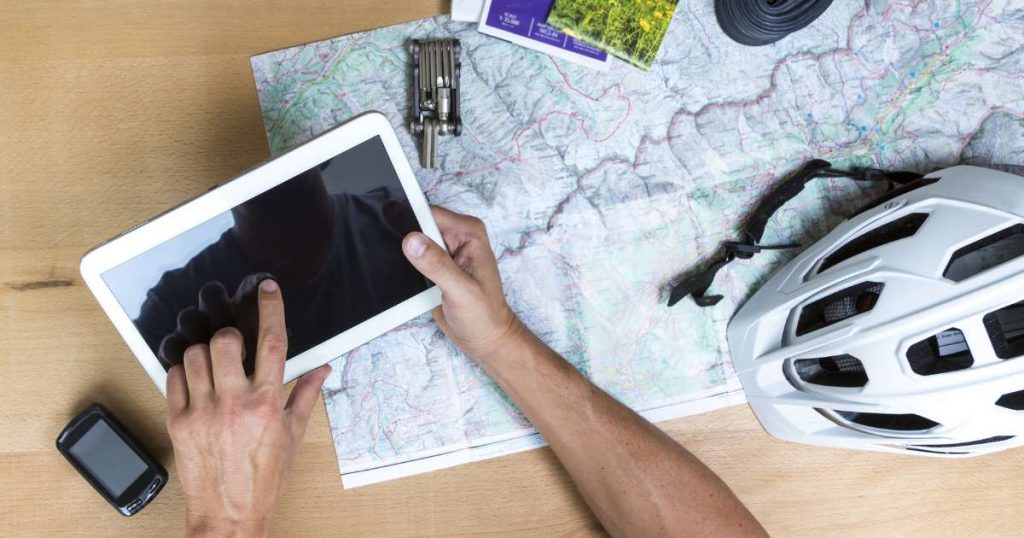 4. Teach him the rules of safety
Before facing a bike trip with children, it is essential to teach them the rules of cycling safety, because it is always important to be vigilant and careful about road and traffic conditions in order to avoid accidents and ensure safe riding.
Even if your journey should take place entirely in nature, it is still important to know and share with your children what rules to follow for road safety. The important ones are:
Wear the helmet
Pay attention to signposting
Keeping a safe distance
Keep to the right
Pay particular attention to intersections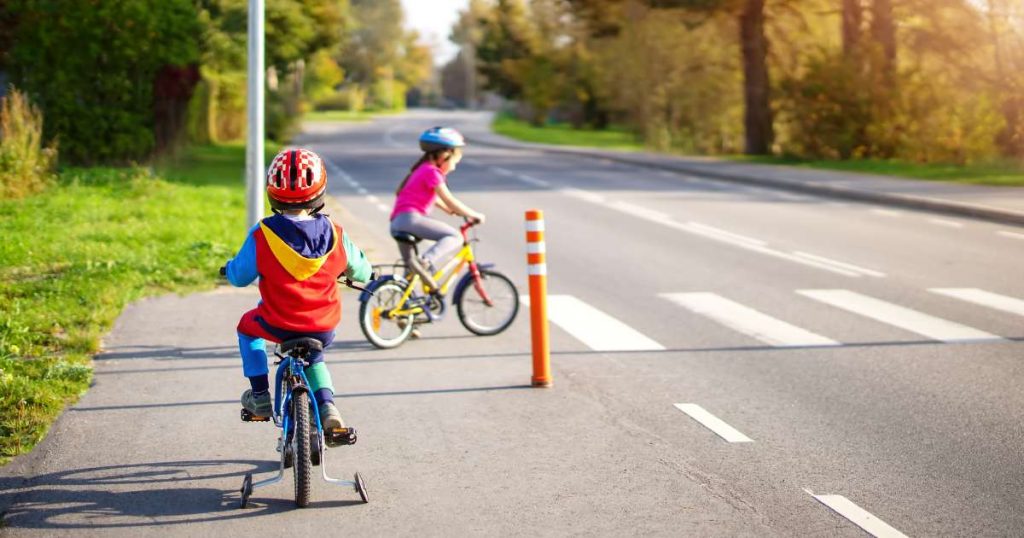 5. Choose the right route for your cycling holiday with children
Choosing a suitable route for your children's abilities is a very important factor in planning your cycling holiday.
The best choice is to opt for cycle paths or secondary roads with little traffic, so as to avoid traffic and ensure the safety of children. In addition, it is important to consider the distance one wants to travel every day, taking into account the children's endurance.
For these needs there is Bikeit, which allows you to organise your bike trip with just a few clicks and with the possibility of choosing your own route, filtering the easiest routes. You will be able to see all the bike routes that Bikeit suggests, sorted by level of difficulty, by distance to cover or duration of the trip.
You can search directly your favourite bike itineraries and if you have any questions, do not hesitate to contact us.
6. Take frequent stops
Another step that we at Bikeit consider important for a peaceful and enjoyable bike trip with children, is to consider all the needs that your children might have, such as the necessity of frequent stops.
Children can easily become tired if they cycle for long periods of time, so it is important to stop often to rest, drink water and eat something. These breaks can also be an opportunity to explore the surrounding area, enjoy the scenery, play games or simply have fun together.
In addition, breaks can be an excuse to check bicycles and equipment, to ensure that everything is in good condition and that there are no technical problems.
Remember that a bike trip should be fun for everyone, so don't hesitate to take a break when you need one.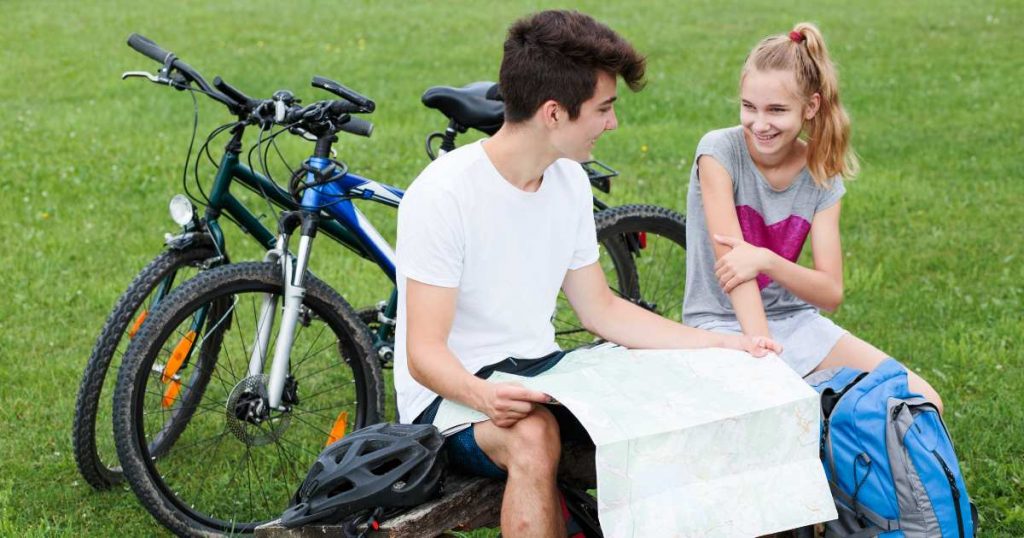 7. Prepare for unexpected events
Although most excursions can be carefully planned, it is always better to be ready for unforeseen situations such as a puncture, an illness or a sudden storm. Therefore, it is essential to carry a small bag with bicycle repair tools, a change of clothes, a first aid kit and a map of the area. In addition, it would be useful to be informed about the weather conditions and shelter options available along the route.
With these suggestions, you can face unexpected events with greater peace of mind and fully enjoy your cycling adventure with children.
Read also: 'Repairing a bicycle inner tube'.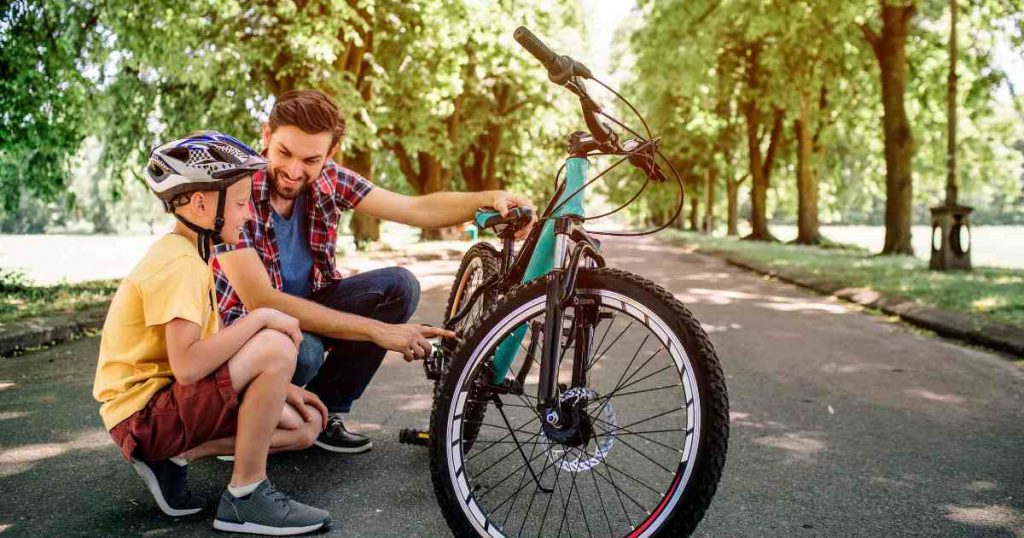 8. Enjoy the bike trip with children
The main objective of this experience should be to spend quality time together with your family, discover new destinations and create unforgettable memories. Don't worry about covering as much distance as possible or rigidly following a precise schedule, but let yourself be carried away by the beauty of the landscape around you and the joy of sharing this adventure with your children. Take a break when you feel the need, enjoy a picnic in the open air or an ice cream in a small square. The important thing is that you and your children have fun and that this bike trip becomes an unforgettable experience that will keep you bond together forever.
Book your bike trip with Bikeit
Book your bike trip now from a single online platform with just a few clicks. Bikeit offers you a huge variety of routes and allows any category of cycle tourists, including families with children, to travel the world by bike.
Don't waste any more time, book your bike trip now.