Have you ever thought about the combination of cycling and sea? Have you ever wondered what it must be like to go from bike seat to the beach bed?
If you are a cycling enthusiast and love discovering new places on your bike, combine your passion for cycling with some relax on the beach.
Once you have purchased a cycling trip package with hotel and luggage transport stage by stage included, on one of the many cycling routes offered by Bikeit, you can also enhance your trip by booking a beach umbrella at your favourite establishment with Spiagge.it.
Spiagge.it is Italy's number 1 online booking portal for beach umbrellas and sunbeds, making it easy for tourists to choose the best beach and also to manage bookings for beach establishments.
To book your place on the beach, you just have to choose your destination, select your dates and indicate on the beach map which place you want.
So, get comfortable in the saddle and discover how cycling and relaxing on the beach can be a winning combination for a different kind of summer holiday.
The best beach destinations along cycling trips in Italy
Italy is one of the most beautiful countries in the world, with a spectacular coastline offering some of the best beach destinations for your cycling holidays.
The main destinations that will leave you breathless are definitely:
1. The beaches of Sicily on your bicycle
The coasts of Sicily are a true paradise for those who love nature and outdoor sports, making the region one of the most popular travel destinations in Italy. Travelling around Sicily by bike will allow you to discover hidden corners and enjoy the beauty of the landscape, but above all the cycling beaches that this beautiful island offers. More specifically:
In western Sicily, along the bike routes offered by Bikeit, you can also stop at the beaches of San Vito Lo Capo and its surroundings. At the end of your cycling trip, another option could be to go to the island of Favignana, known for its crystal-clear waters ranging from emerald green to deep blue, to complete your adventure in relax;
In eastern Sicily, the best known seaside destination is certainly the city of Catania, where you can enjoy good food and beautiful sea, but also have fun riding your bicycle.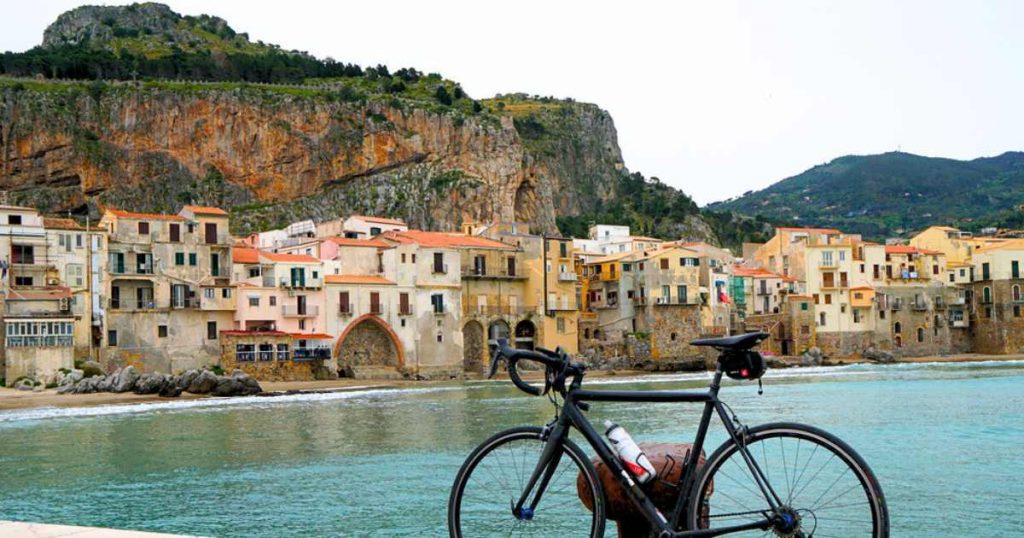 Book your cycling trip to Sicily
2. Tuscany and Liguria: Between Bikes, Beaches and Art
Tuscany and Liguria are two Italian regions that offer a perfect combination of nature, culture and fun. More specifically:
Tuscany is famous for its hilly landscapes, art cities such as Florence and Siena and delicious Tuscan cuisine. Among the most popular beaches along the coast are Forte dei Marmi and Lido di Camaiore.
Liguria, on the other hand, is known for its breathtaking beaches, picturesque coastal towns such as Portofino and delicious culinary specialities such as pesto. The most famous beaches are certainly to be found in the Cinque Terre area, then Monterosso al Mare, Vernazza, Corniglia, Manarola and Riomaggiore.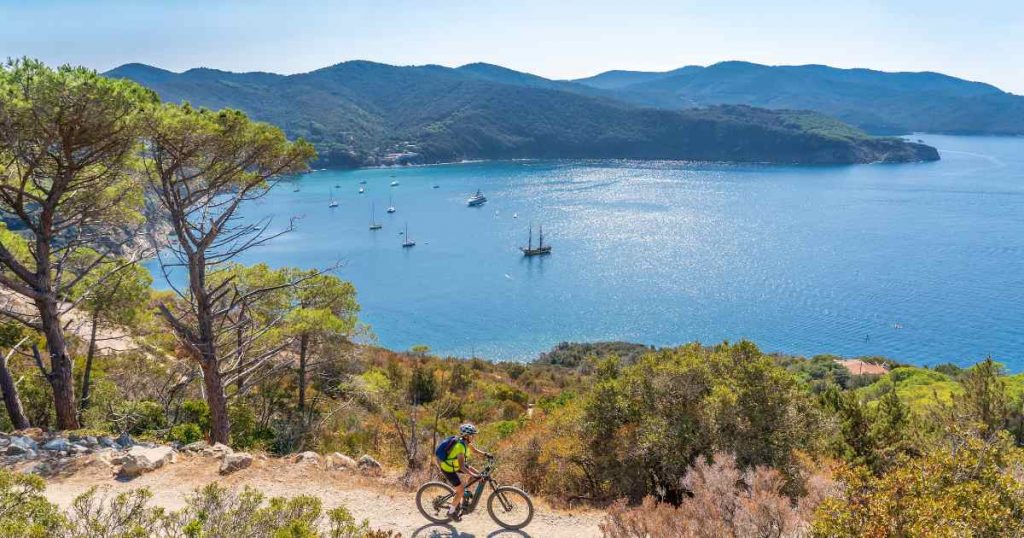 Both regions are also a paradise for cyclists, with scenic and hilly routes offering spectacular views of the coast and surrounding hills, such as the Pisa, Lucca and Cinque Terre route, which crosses the coasts of Tuscany and Liguria.
3. Bike and sea between Marche and Abruzzo
The Adriatic coast of central Italy offers a breathtaking landscape, between Marche and Abruzzo, where the mountains meet the sea. One of the best experiences to enjoy this natural beauty is to explore the area by bike, cycling along the coast between the trabocchi, ancient wooden constructions rising above the water, and the golden sandy beaches.
This way of travelling allows one to fully appreciate the tranquillity of the sea and the beauty of nature without losing contact with it.
4. Emilia Romagna in the saddle: bike, sea and hills
Emilia Romagna is a region that offers many opportunities for beach and cycling enthusiasts. With its varied landscape of sea, hills and lowland, it is ideal for those who like to explore the region on their bikes.
Along the coast, thanks to one of Bikeit's travel packages, you can cycle through Romagna's best-known seaside towns of Riccione, Rimini and Cesenatico, which offer long, sandy beaches, crystal-clear waters and a wide range of tourist services.
These locations have always been between the most favorite destinations for Italians and foreign tourists alike, so whatever destination you choose, cycling in Emilia Romagna is definitely an environmentally friendly and healthy way to discover the beauty of this northern Italian region, between relax and fun.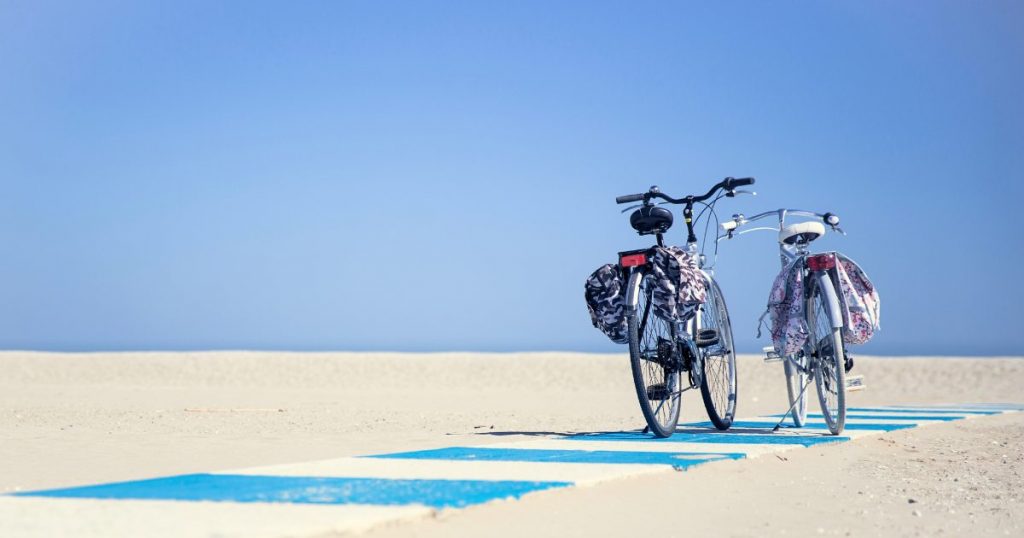 5. Cycling in Sardinia: between crystal-clear sea and unique landscapes
Biking in Sardinia is an unforgettable experience for lovers of beaches and cycling. Indeed, the island offers unique landscapes, between crystal-clear sea and imposing mountains, which can be explored thanks to the numerous cycle paths and scenic roads.
One of the most fascinating bike routes is the one that starts in Torre dei Corsari, passing through towns such as Buggerru, Sant'Antioco, Teulada and Pula, and ends in Cagliari, where you can book your sunbed on the beach and enjoy some well-deserved rest by the sea.
Cycling in Sardinia also means discovering the region's culture and tradition, through its ancient villages, archaeological sites and gastronomic delicacies. In any case, Sardinia is a true paradise for cyclists, who can enjoy a unique environment and unspoilt nature.
Bikeit and Spiagge.it: book your bike and sunbed trip now
Discover the beauty of Italy's beaches and pedal through the wonders of the coastline and breathtaking views.
Choose from the numerous bike routes offered by Bikeit and enjoy your holiday package between fun and relax.