The cycling backpack has become a must-have accessory for many cycling enthusiasts, from discerning to casual travelers, because of its versatility and practicality.
This is an essential tool for the cyclist who wants to tackle long distances, as it makes it easier to carry any kind of item you may need during strenuous excursions: from a water bottle to a flashlight to spare clothes and other travel gear.
The 3 basic features of a cycling backpack
Cycling backpacks have a number of advantages that make them a must-have item for every cycle tourer. Their versatility can greatly enhance the two-wheeled experience, regardless of the type of ride.
Listed below are the 4 main benefits:
1. Transportation Capacity
They allow you to carry a wide range of essential tools for biking adventures. These tools include flashlights, spare clothing, repair and first aid kits.
Not only that! We know how importanthydration isin cycling, so much of the interior space could be allocated to a water supply. Carrying capacity is therefore crucial, depending of course on the cyclist's needs.
2. Multifunctionality
Cycling backpacks are designed to be multifunctional, which means they offer dedicated spaces and compartments for various types of items. This feature allows cyclists to organize the materials needed during the trip.
Their practicality is not limited to just exteriors: many backpacks have external laces to which you can attach your helmet or a back light.
3. Convenience
The ergonomic design of cycling backpacks makes them comfortable to wear while riding. Backpacks are usually designed to fit tightly to the cyclist's body, so that they stay put even while riding over rough terrain, as in the case of mountain bikers.
How many types of cycling backpacks are there?
There are different types of cycling backpacks depending on theuse and type of cyclist. A mountain bike backpack, therefore, will have different qualities from a running backpack because it meets different needs.
Therefore, several variables should be considered depending on the use: capacity, material, weight, convenience, and multifunctionality then become features that should not be underestimated.
1. Mountain bike backpacks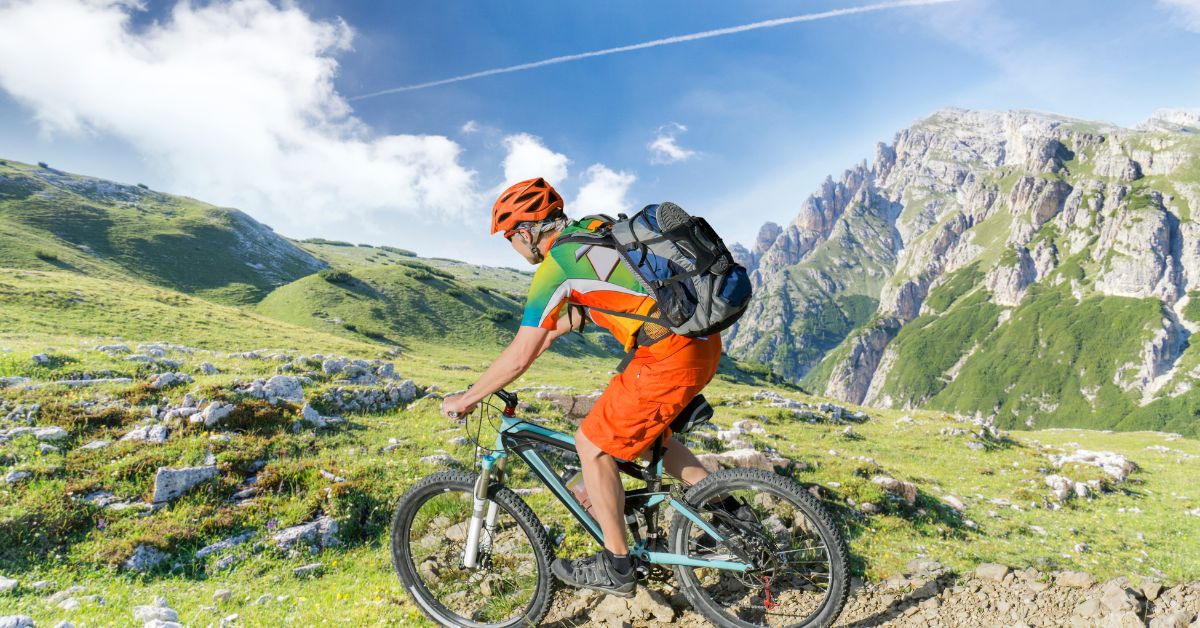 Mountain bikers know that not just any backpack can be chosen for them: they encounter rough trails, jumps and potholes during the ride.
Mountain biking backpacks, therefore, are developed in length because they need to fit tightly to the body to hold the contents in place. They are usually fitted with two horizontal straps so that they fit completely around the back.
Also not to be underestimated is the presence of pockets and small compartments for convenient storage. The mountain bike backpack also has a smaller capacity in liters than others because the bike ride generally lasts only a few hours.
A good tip is to choose a backpack that is made of water-repellent nylon and that the back is breathable.
The last detail not to be forgotten is the presence of the water bag (or water bag): this is simply a plastic container built into the backpack that can be filled with water. In fact, there is a small tube coming out of the water bag that can be passed to the front, next to the mouth, so that you can drink comfortably while pedaling.
2. Backpacks for racing cycling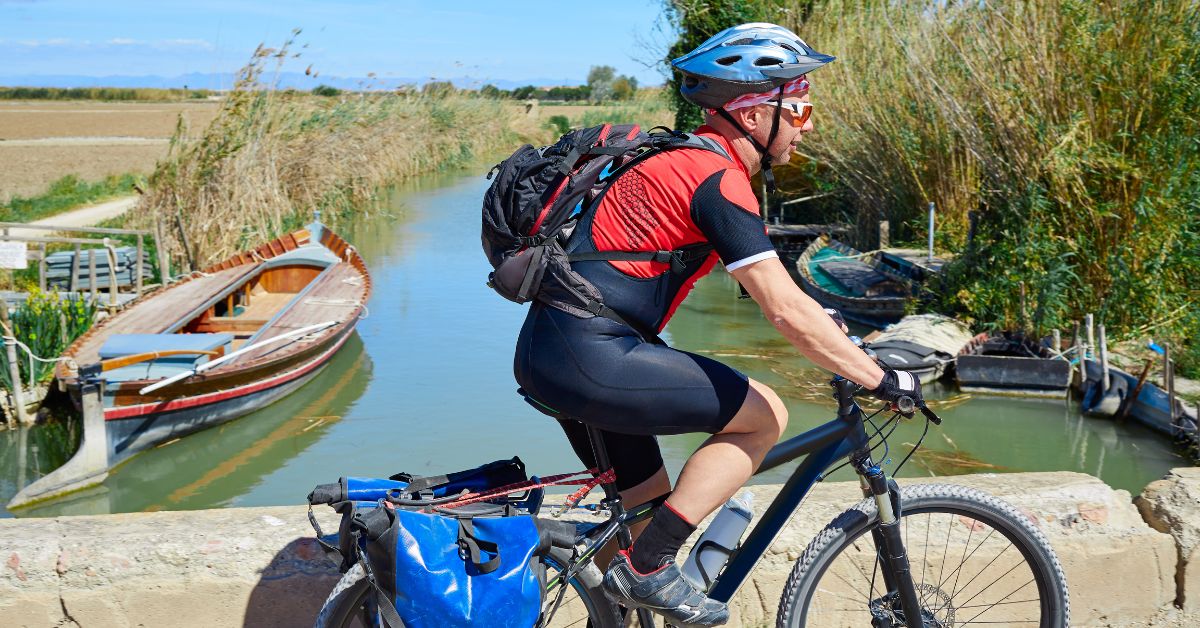 Racing cyclists, on the other hand, may purchase a backpack without an internal water tank since it is important to them that it be lightweight and easily transportable. Cycling racing backpacks should weigh less than 1kg and have ventilated back protection.
The preferred material is nylon because it is lightweight and waterproof, which allows the contents to be protected in case of rain.
However, racing cyclists prefer to travel light, and cycling backpacks may not always be suitable for them. There are other accessories that can come to the aid of the racing cyclist, such as the bottle cage or practical saddle bags.
3. Backpacks for urban cycling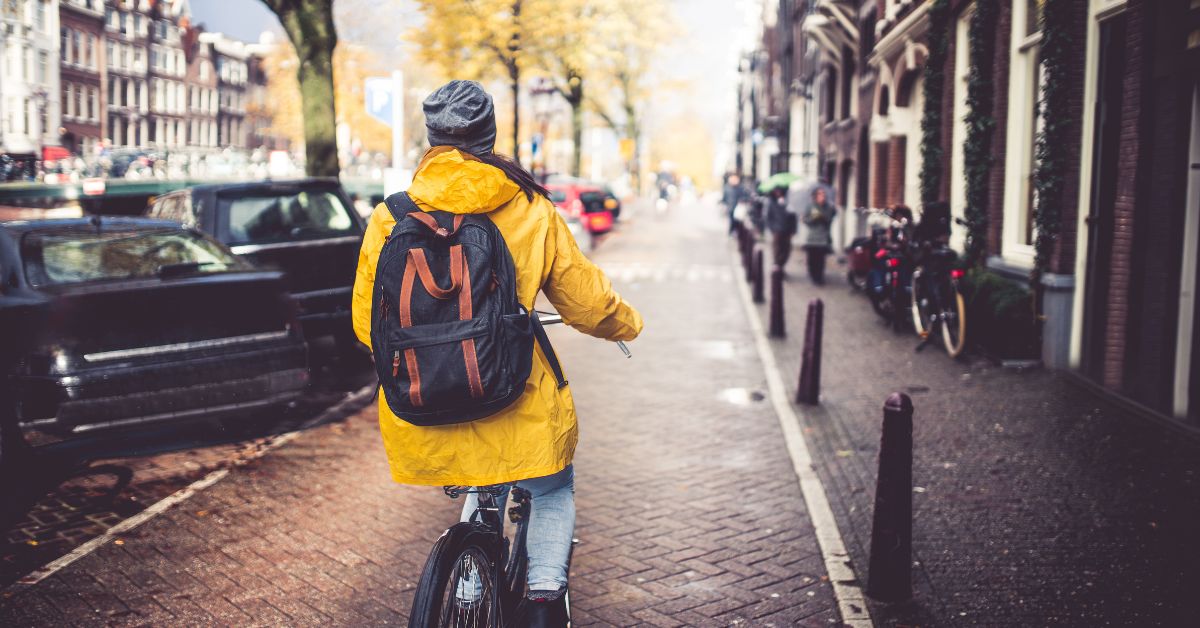 Even those who use bikes to get around town need a durable and comfortable backpack to safely store their personal items, such as PCs, smartphones, chargers, documents and books. In this case, the range of offerings is varied, but the key characteristics for identifying the perfect backpack are: light weight, waterproof, and the presence of internal compartments.
Capacity is usually 18 liters and up, and many brands focus on the versatility of this accessory: it can be roll-top or turn into a messenger, have a sporty or minimal look.
What to carry in the cycling backpack?
Cycling equipment is varied and depends greatly on the type of cycling you want to do but there are a few things that should never be missing: a repair kit and a first aid kit for just in case, your cell phone and a powerbank so you can always be on call in case of an emergency. The smartphone can also be useful for orientation without using paper maps and compasses.
Beyond the cycling backpack: other accessories
For those who take on long hikes, especially in the case of bicycle touring, the backpack may further weigh the cyclist down, making it difficult for them to travel.
In this case we recommend other bicycle accessories, such as various types of bags (handlebar, rear, side) and frame bags.
Book a bike trip with Bikeit
For those who want to break into the world of bicycle touring, Bikeit offers beautiful travel routes that have been taken care of down to the smallest detail, while also offering the possibility of renting your own travel bike on site for a complete experience even for beginners.
Take a look at the available routes and hop in the saddle with Bikeit!