Italy is a true paradise for cycling holidays. Indeed, this country offers a rich cultural heritage, breathtaking views and a variety of cycling routes that provide unforgettable experiences for cyclists of all skill levels. Cycling trips in Italy are certainly unique.
Thanks to Bikeit, you can easily book and organise cycling trips to these fascinating travel destinations, allowing cyclists to immerse themselves in the culture, history and extraordinary nature of Italy, all in total safety thanks to Multisport insurance.
In this article, we explore some of the best cycling destinations in Italy, from fascinating art cities to spectacular scenic roads, offering a unique experience for cycling enthusiasts of all levels. We will also give some tips for those who wish to explore Italy safely on their bikes and demonstrate the importance of the bicycle as a sustainable means of transport.
Best destinations for cycling in Italy
Italy certainly offers a wide range of cycling routes with breathtaking landscapes from north to south.
From the Alpine charm of the Dolomites in Northern Italy, to the history and culture of Tuscany in Central Italy, to the wild beauty of the coasts and islands of Sicily in Southern Italy, each region offers a unique and unforgettable experience for two-wheelers.
Cycling in Northern Italy
Northern Italy is a place full of natural wonders, breathtaking landscapes and fascinating cities, making it an ideal destination for cycling enthusiasts. Through its well-developed cycle paths and scenic routes, cyclists can discover the unique beauty of this Italian area.
Among the most popular destinations are the following regions: Emilia Romagna, Liguria, Lombardy, Piedmont, Trentino and Veneto.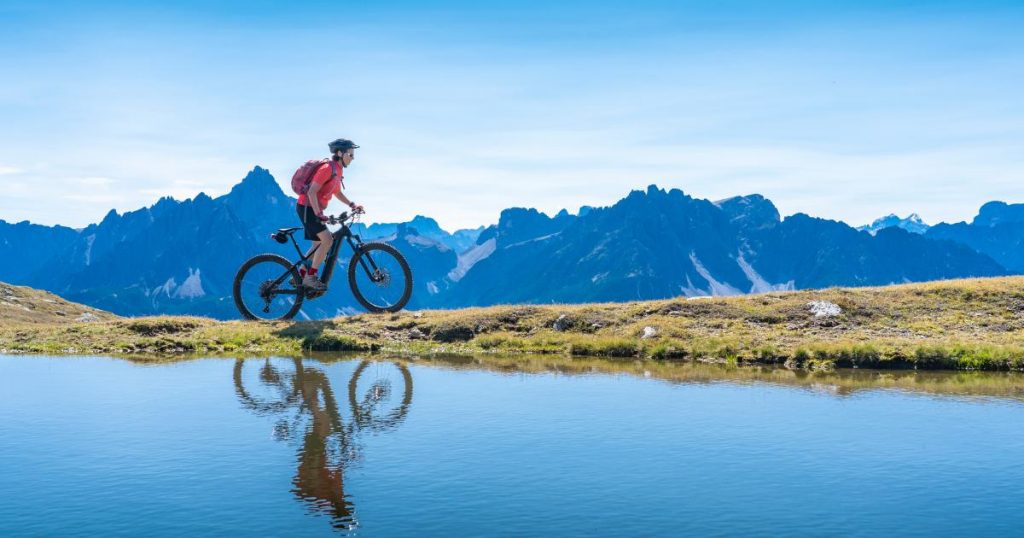 Exploring these regions on your bike means immersing yourself in history, discovering hidden treasures and enjoying breathtaking views along well-developed routes. The most beautiful cycling routes in northern Italy with Bikeit are definitely:
Rimini and Romagna: a daisy-chain itinerary of about 70 km daily through Roman and Romagna history and culture.
The Adige Cycle Path: a route of about 40 km daily that follows a scenic route from the Dolomites to Lake Garda.
The Po Delta: an approximately 60 km daily itinerary where you can visit unique sights, such as the Via delle Valli with its pink flamingos, and experience Adriatic cuisine.
Along the Via Emilia: an itinerary of about 55 km per day to discover the most popular cities of the Po Valley such as Parma, Reggio Emilia, Modena and Bologna, immersed in art, history, culture and gastronomy.
Pisa, Lucca and Cinque Terre: an itinerary of approximately 45 km in a tour of unique scenic beauty, starting in Pisa and ending in Monterosso.
Book your cycling trip with Bikeit in one of these travel destinations and enjoy your adventure holiday in northern Italy.
Cycling in Central Italy
With its charming medieval villages, picturesque hills and lush valleys, central Italy captures the imagination of every adventurous cyclist.
Among the most popular destinations are the Marches, Tuscany and Umbria, which offer breathtaking cycling routes:
The Medieval Villages of Umbria: an itinerary of about 45 km per day cycling from Assisi to Passignano sul Trasimeno, exploring Umbrian medieval villages amidst verdant olive groves and vineyards.
The Heart of Tuscany: an itinerary of about 50 km a day from Pisa to Florence, retracing part of the Via Francigena, immersed in the beauty of these places.
Chianti and Val d'Orcia: a memorable cycling trip through prized vineyards, olive groves and cypress-lined hillsides and beautiful historic centres with hundreds of years of history.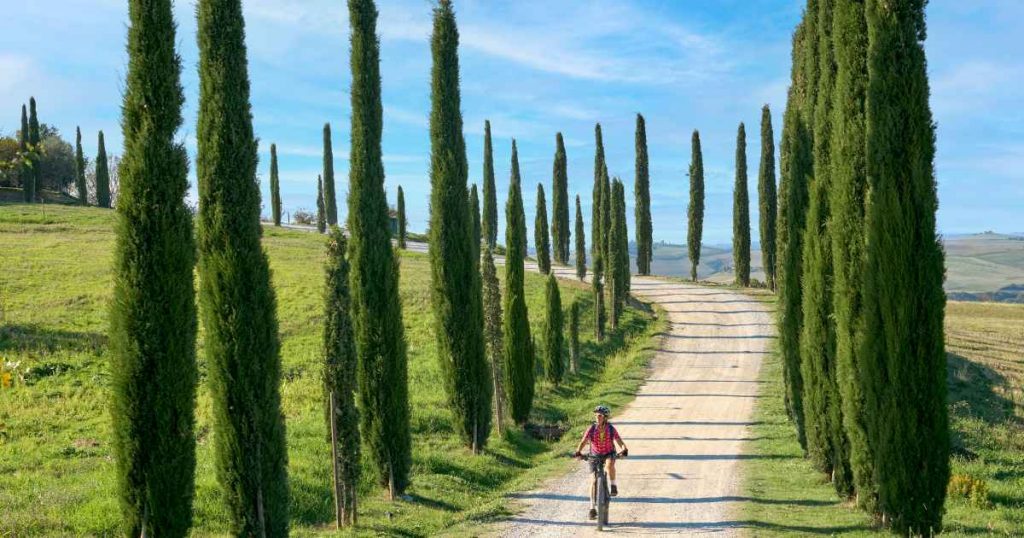 Cycling in Southern Italy
Travelling by bicycle in Southern Italy is an extraordinary experience that offers a unique combination of nature, culture and tradition. Cycling along the picturesque roads of the South allows you to fully immerse yourself in the richness of a land with a thousand faces.
Among the most popular destinations on Bikeit are Sardinia and Sicily, which offer breathtaking cycling routes:
The Costa Verde (Green Coast) of Sardinia: a bike route that still shows signs of the mining past, which has only been in disuse for a few decades, from Torre dei Corsari to Cagliari.
Western Sicily: an itinerary of around 40 km daily immersed in the beauty of cities such as Trapani, Palermo, Castellammare del Golfo, Marsala, Selinunte and Mazara del Vallo.
The Natural Parks of Sicily: a bike itinerary from Catania to Palermo among Hellenic ruins, nature, culture and tradition, through Greek, medieval and Sicilian history, between sea and mountains.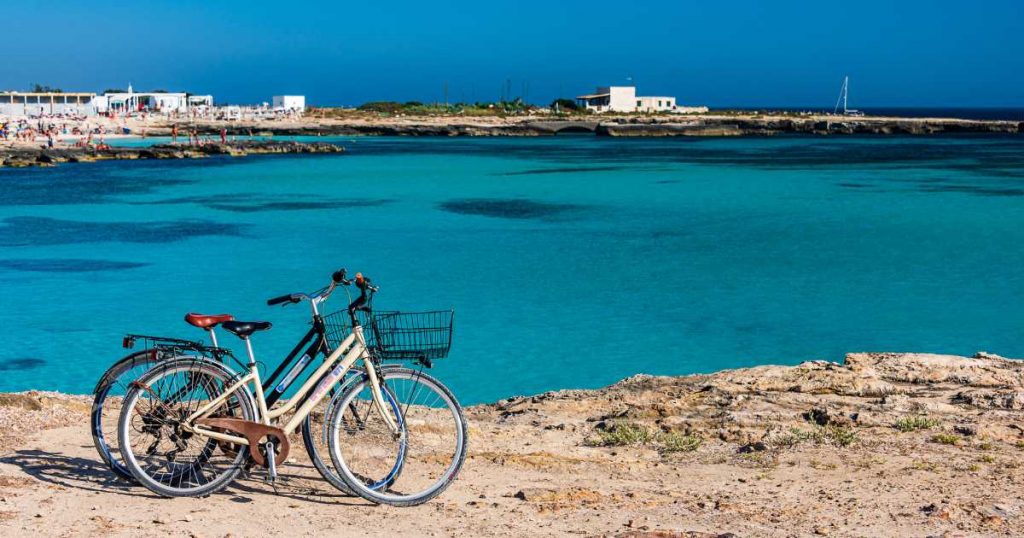 The bicycle as a sustainable means of transport
Cycling through breathtaking, untouched landscapes rich in biodiversity is a rewarding experience that emphasises the harmony between man and nature.
The bicycle, as a means of transport for sustainable mobility, contributes to reducing greenhouse gas emissions and preserving clean air.
In addition to being an environmentally friendly choice, cycling offers a deeper connection with the places visited, allowing one to grasp details that are often missed by those travelling by car or other motorised means.
During a cycling trip, one has the opportunity to interact with local communities, immerse oneself in the culture and gastronomy of the regions crossed. The slow and sustainable approach of cycle tourism encourages encounters with local people, cultural exchanges and authentic experiences, making each adventure unique and meaningful.
Our tips for exploring Italy by bike safely
The biggest tip we at Bikeit can give you to explore Italy by bike in total safety is to buy multisport insurance.
Multisport Insurance
The sports insurance that protects you worldwide, valid for all sports and for the whole family!
Add it to your experiences from €3.50 per day and have fun in safety, or request a customised quote here.
Multisport is not your classic liability: it protects you if you hurt someone, but also reimburses you for medical expenses, season tickets and rental of sports equipment.
You can purchase it as an individual, family or group version for your daily activities from 3.50€ per day.
Is sport your passion all year round? Then Multisport annual is the right solution for you: buy it for only EUR 46 per year, and you can also add extensions for air and motor sports to be protected from all risks.
Book a bike trip with Bikeit
Thanks to Bikeit, you can travel the world by booking online your cycling holiday quickly and easily.
Bikeit offers a huge variety of bike routes and allows all categories of cycle tourists to travel the world by bicycle.