The Langhe, one of Italy's most fascinating travel destinations, is a true paradise for lovers of nature, good food and fine wine. But what could be better than exploring these idyllic hills on your bike seat?
Cycling between breathtaking views and delicious flavours, immerse yourself in the green hills and wonderful vineyards of the Langhe. Experience the famous Barbaresco, Nebbiolo and Barolo wines, which will make your cycling trip a boundless experience. The Langhe are also famous for the white truffle of Alba and the renowned Langhe cuisine, which will leave you with a tasty memory of this region.
Many people who have had the opportunity to explore the Langhe by bicycle have been enchanted by this adventure. In particular, Riccardo Varaldo, an enthusiastic cyclist, described his cycling trip to the Langhe with Bikeit as a unique experience.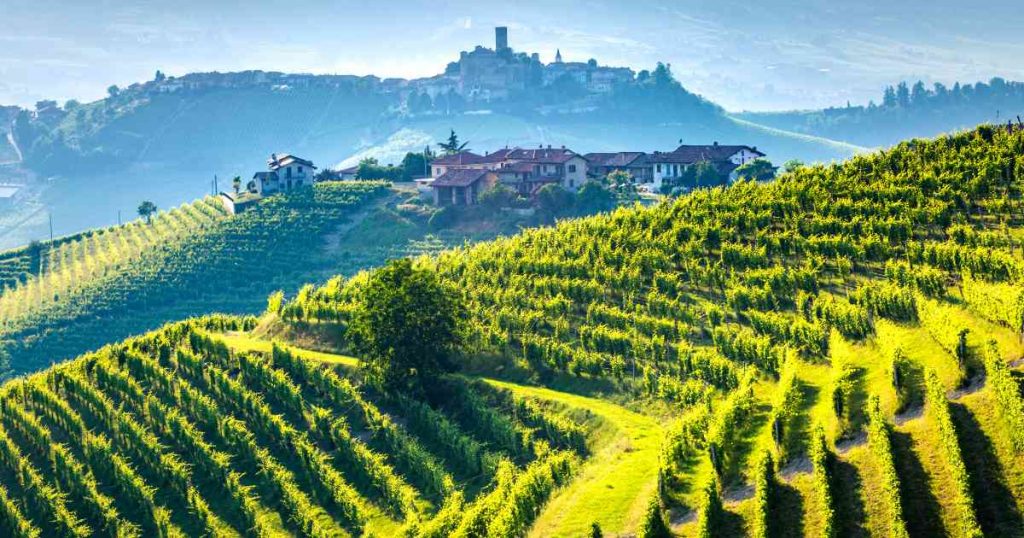 Riccardo Varaldo's adventure in the Langhe
A ski instructor in winter and a great bike enthusiast in summer, Riccardo Varaldo – Riky to his friends – never stops! A sportsman with a capital S, he explored the Langhe in the company of Bikeit and Hey" Sport.
Here is what Riccardo told us
Bikeit: Hi Riky, here we are again after this winter season that we would describe as 'on fire'. So we've known each other for a long time now and we wanted you to explore our Bikeit routes and tell our community about your experience. You left at the beginning of May right?
Riky: Hi Guys, it's always good to see you! Yes exactly, I did three days in the Langhe in Alba from 15 to 17 May. Let's just say that the month of May was not conducive to bike travel with this changeable weather but I still brought home a unique experience.
B: Tell us more!
R: I must say that the possibility of booking everything online before departure is really – pass me the term – a cakewalk. It allows you to fully enjoy your bike ride! For example, I booked the bike rental directly with you and the on-site service was super efficient. As I arrived on the first day, I checked in and my bike was already ready at the hotel waiting for me. Super indeed!
B: We are happy with this feedback! We also believe that being able to organise everything from home before departure takes a lot of the stress out of being on holiday, especially on trips that last maybe only three days. Were you able to take advantage of any of our other services?
R: Obviously in the Langhe I couldn't avoid trying a wine tasting! I tasted three really good local wines.
B: We know that cycling is a sport that can be experienced both in a group and solo, how did you find being alone on the road?
R: Going it alone is very subjective, some people are more inclined and some are not! I have to say that being one of my first solo trips, I had a good time, then the routes in the Langhe are travelled by many cyclists and enthusiasts. I won't hide the fact that I had the opportunity to join a group of cyclists doing the same ride as me and it was fun!
B: It's really true that behind every journey there is always a discovery… you leave alone and then you meet other people on the road! But speaking of the not-so-great weather (unfortunately), we know that you had some great clothes for the ride.
R: Yes, and I would say fortunately! I always wore Hey" Sport garments.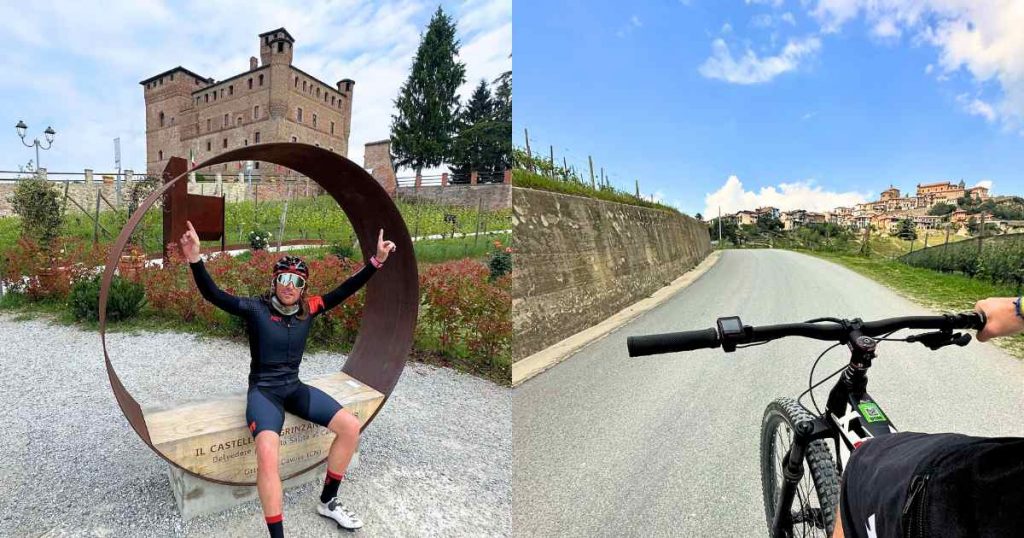 Hey" Sport clothing worn by Riccardo in the Langhe
During his bike trip in the Langhe, Riccardo Varaldo had the opportunity to wear Hey" Sport clothing, which combines breathability, elasticity, aerodynamics and protection with style and innovation.
Here are the Hey" Sport cycling clothes worn by Riccardo Varaldo:
1. For e-bike
Zion Enduro Shorts: A lightweight, elastic and abrasion-resistant technical fabric pant. Equipped with a press stud closure and zipped pockets, it offers practicality and security for storing personal items, but also breathability provided by the rear ventilation zone.
Joshua Enduro Jersey: this enduro jersey is highly breathable and abrasion-resistant. With its 3/4 sleeve, it offers optimal protection without compromising freedom of movement. In addition, the fabric used is characterised by a high quick-drying capacity, ensuring constant comfort during cycling trips.
2. For road bikes
Acadia Jersey: Versatility and grip, this unisex short-sleeved jersey offers breathability, thermoregulation, aerodynamics and UV protection thanks to a special combination of materials, including Graphene. It is the perfect choice for those looking for high performance and comfort during cycling trips.
Antelope Short: the premium unisex bike short that ensures optimal performance thanks to technical workmanship and attention to detail. The fabric used has high elasticity and compression, thus reducing muscle fatigue.
3. Extra
Big Bend sweatshirt: as in Riccardo's case, you need the right protection when biking in bad weather. This unisex sweatshirt with asymmetrical cut is a modern and original garment. Equipped with a central pocket, adjustable hood and embroidered logo details, it offers comfort thanks to elasticated cuffs and piping. A versatile, trendy and high quality choice.
Book a bike trip with Bikeit
Did we make you want to go on a bike trip? Would you also like to try a cycling holiday with Bikeit?
Discover all the bike routes Bikeit offers you around the world and book the one that best suits your needs and requirements. So, what are you waiting for?