The wind that touches your face, the breathtaking views that follow one another, the autonomy and freedom to explore new territories: these are just some of the wonderful aspects of solo bike trips.
In the modern era, more and more people are turning to this form of adventure, discovering a unique connection with nature and themselves.
In this article, we explore the advantages and joys of travelling by bike alone and dive into the unforgettable journey of Ilaria Fiorillo of "Milano in Bicicletta" with Bikeit, along the enchanting Lake Constance bike route.
The benefits of travelling by bike alone
Travelling by bicycle alone is a fascinating experience that offers many unique benefits and opportunities. While many people choose to travel in groups or with fellow travellers, solo cycle touring offers a feeling of freedom and independence that can be extremely rewarding.
During a solo cycling trip, you are the captain of your adventure, making decisions about route, pace and stops along the way. The main benefits of travelling by bike alone are:
1. Freedom and independence
When travelling alone by bicycle, you are completely free to decide your own pace and your stops along the way. You don't have to compromise or coordinate with other fellow travellers, so you can enjoy greater independence in the execution of the trip.
2. Autonomy and self-sufficiency
Being in charge of your own journey, you have to face challenges and solve problems on your own. This allows you to develop a sense of self-sufficiency and acquire practical skills for handling unforeseen situations that may arise during the trip.
3. Connection with nature
Travelling by bicycle allows you to be more immersed in your surroundings. You can enjoy the scenery, breathe the fresh air and feel the wind on your face as you move. This gives you a more intimate contact with nature and allows you to appreciate the beauty of the world around you.
4. Increased cultural awareness
When you cycle alone, you have more opportunities to interact with local people along the way. You can stop in villages and cafés along the way to chat with the locals, learning more about their culture, traditions and personal stories. This interaction can enrich your travel experience and broaden your perspective.
5. Personal challenge and growth
Travelling alone by bicycle requires a certain amount of determination and perseverance. Facing difficulties along the way, overcoming your physical and mental limitations and achieving your goals will help you develop greater self-confidence and grow as a person.
6. Health and well-being
Cycling is a physical activity with numerous health benefits. By cycling alone, you can enjoy regular physical activity, improve your cardiorespiratory endurance, strengthen your muscles and reduce stress. In addition, contact with nature and exploring new places can contribute to your emotional and mental well-being.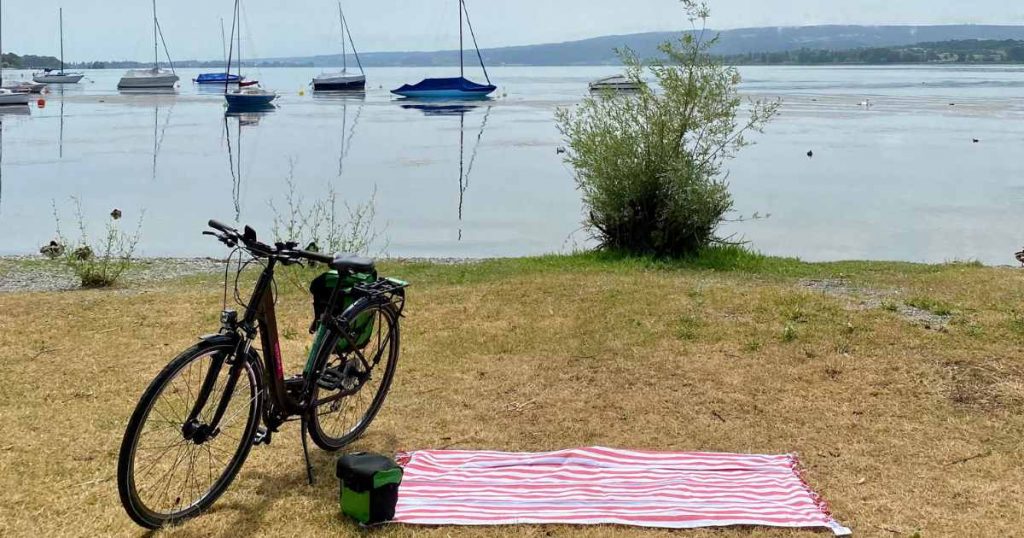 Tips for solo cycling trips
Whether you are an experienced cyclist or a beginner eager to test yourself, you should keep in mind some important tips that will help you make your solo cycling trip a memorable adventure:
1. Prepare your equipment
Take along the right travel kit for your cycling trip, such as essential tools and spare parts: spare inner tube, pump, multi-purpose tools and spare chain are just examples of what you might need.
2. Choose appropriate clothing
Wear weather-appropriate clothing, including helmet, gloves and sunglasses to protect you from the sun, wind and insects. Use high-visibility clothing if you plan to cycle in busy areas.
3. Pedal safely
Always obey the rules of the road and maintain safe driving. Wear a helmet and use safety devices such as lights and a bell to get noticed by other road users. Pay attention to traffic conditions and choose roads with less traffic whenever possible.
4. Plan stops
Make sure you plan stops along the way to rest, hydrate and eat. Take enough water and energy snacks with you to maintain energy levels during the trip.
5. Communicate with your loved ones
Before leaving, inform your family or friends of your itinerary and travel plans. Keep them updated on your route during the journey so they can know where you are.
6. Keep an open mind
Cycling alone can offer you a unique experience of freedom and discovery. Be open to new encounters and experiences along the way. Make friends with other cyclists or locals and enjoy the beauty of the ride.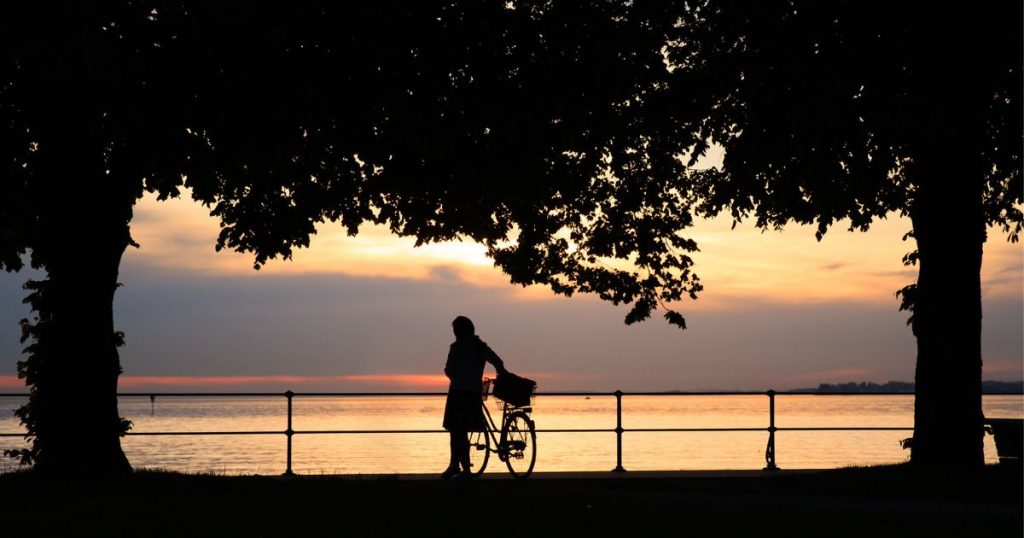 Ilaria Fiorillo's bike trip to Lake Constance with Bikeit
Now let's talk about the wonderful journey that Ilaria from 'Milano in Bicicletta' undertook along the enchanting Lake Constance route, made possible thanks to Bikeit.
The Lake Constance route is famous for its breathtaking beauty and the picturesque villages that dot its shores.
Ilaria spent unforgettable days cycling the length and breadth of the region, beginning and ending her cycling trip in Constance. She was fascinated by the city, which was designed with people and bicycles in mind, not cars. She conveyed the feeling of being at home, even if in a place that does not belong to her. The contrast with Milan was stark:
"Well, what can I say, you pedal well, without fear, the signage is very clear and there are directions to anywhere in the city, on foot or by bicycle. I felt at home, in a place that does not belong to me, I felt welcomed, in a country that is not mine. I no longer feel at home in Milan".
On her journey, Ilaria passed through typical small towns, cycled along lakeside paths and immersed herself in local culture and traditions. It was a true experience of discovery, where he was able to taste culinary delights, visit tourist attractions and enjoy breathtaking views, all while riding his bicycle.
Ilaria travelled with Bikeit, the online booking platform for complete packaged bike trips, which allowed her to fully enjoy her solo bike trip without having to think about anything.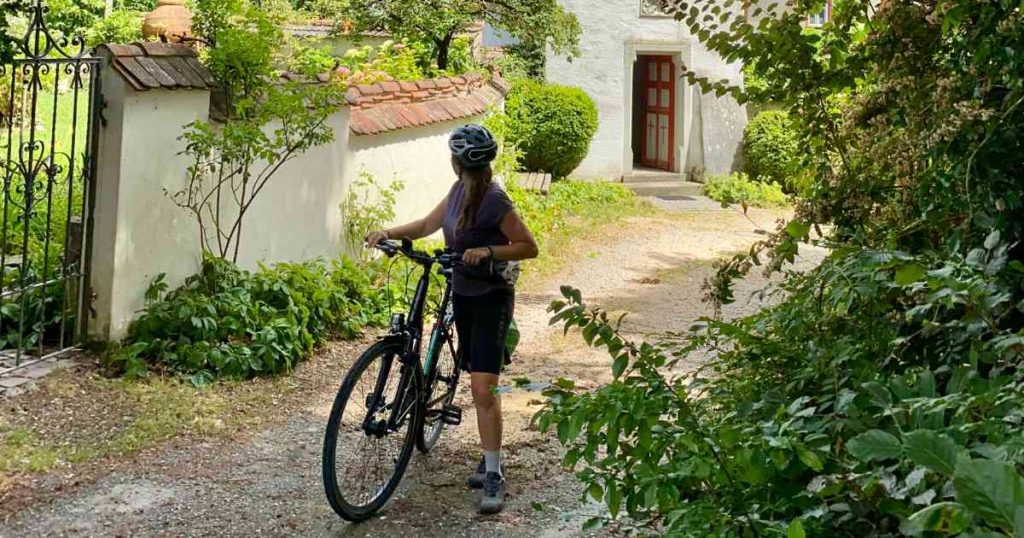 To find out more about Ilaria Fiorillo's cycling trip to Lake Constance, read her newsletter.
Solo cycling trips with Bikeit
Solo bike trips offer a number of advantages that can hardly be matched: the authenticity of the experience and the chance to discover hidden places are just some of the reasons why more and more people are venturing into this form of travel.
As Ilaria's unforgettable trip with Bikeit on Lake Constance shows, solo bike trips can provide unique and wonderful experiences, allowing you to create lasting memories and connect deeply with the world around you.
So, if you are ready for an unforgettable adventure, why not get on the saddle and discover the world in a different way, pedal after pedal?