Visiting Vietnam by bike is an adventure that all bike touring enthusiasts would like to embark on. Indeed, this country is one of the most popular travel destinations for those who want to discover the country's natural beauty, culture and history.
There are many cycle paths through the country's traditional villages, historic towns and rice fields, allowing cyclists to fully immerse themselves in the daily life of the Vietnamese and appreciate their culture.
In this article, we will explore the beauty of Vietnam and the attractions you can discover along the way, entirely on your bike.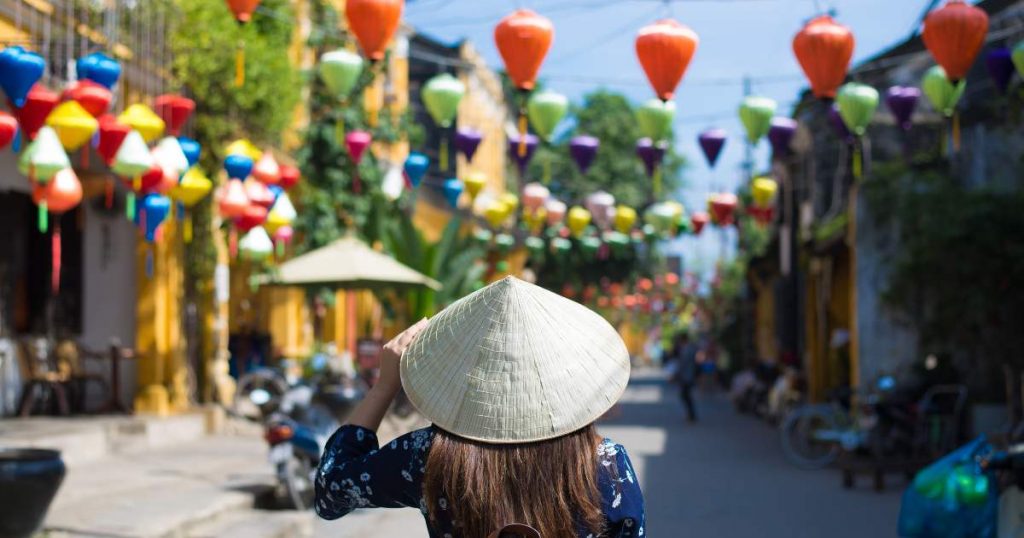 Why choose to take a trip to Vietnam by bike?
Vietnam is a fascinating country rich in history, culture and nature. A unique and adventurous way to explore the country is through a cycling holiday, which allows visitors to fully immerse themselves in the beauty of the landscape, discover the local culture and taste the delicious Vietnamese cuisine.
There are many reasons to choose to take a trip to Vietnam by bike, but here are the 4 main reasons according to us at Bikeit:
1. Vietnam's natural beauty by bike
Vietnam offers breathtaking natural beauty that can certainly be best appreciated by bicycle.
Biking across Vietnam means riding through the mountains of Sapa, cycling along the coast of Nha Trang or exploring the rice fields of the Mekong River Valley. These are just some of the experiences one can have in Vietnam by bike.
The variety of landscapes Vietnam has to offer is incredible: from white sandy beaches to forest-covered mountains, from rice paddies to traditional ethnic minority villages. In addition, cycling allows one to fully immerse oneself in Vietnamese culture, meeting locals and discovering local markets and culinary traditions.
There is no better way to appreciate Vietnam's natural beauty than on a bicycle, leaving behind the noise of traffic and enjoying the peace and tranquillity of nature.
2. Fascinating Vietnamese culture
Vietnamese culture is one of the oldest and most fascinating cultures in South-East Asia. Its thousand-year history is characterised by a series of cultural influences that have shaped its unique identity.
Traditional art, for example, is a unique expression of the country's culture. Among the most famous art forms are ceramics, silk weaving, woodworking, sculpture and painting.
Vietnamese ceramics, in particular, are renowned for their beauty and use of bright, bold colours. Traditional silk weaving techniques have been handed down from generation to generation, and are still used today to create high-quality garments and accessories.
Religion and spirituality are also fundamental elements of Vietnamese culture. Most of the population practices Buddhism, but there are also Taoist and Confucian influences. Ancestor worship is a widespread practice in the country, and is a demonstration of the great respect and gratitude Vietnamese society has for its ancestors and the spirituality they represent.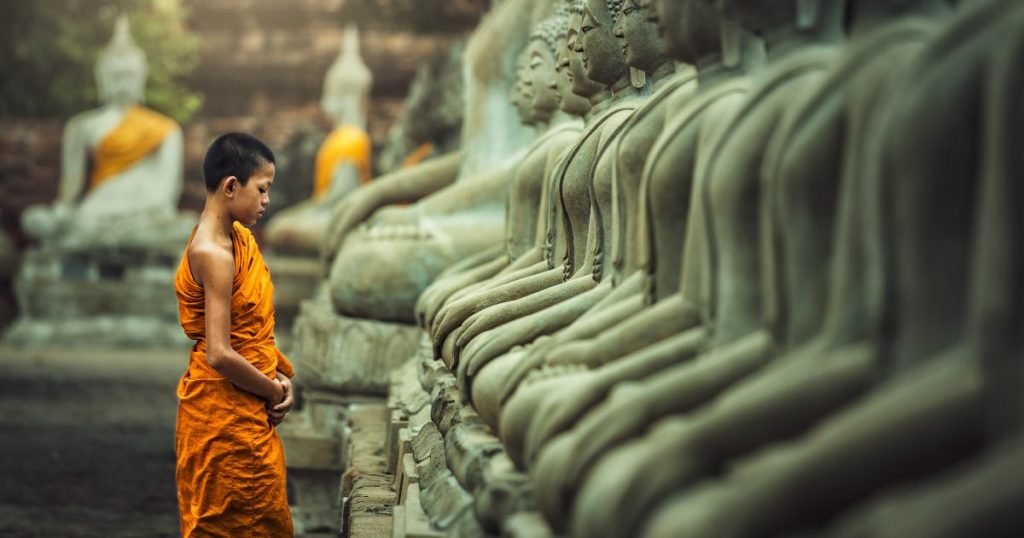 The Vietnamese language is another unique feature of the country's culture. This uses a writing system based on the Latin alphabet, but is characterised by distinct tones that can completely change the meaning of a word.
In summary, Vietnamese culture is a unique combination of art, religion, language, music and hospitality that make it one of the most fascinating and interesting cultures in the world.
3. Vietnamese cuisine
Vietnamese cuisine is one of the most diverse and tasty in South-East Asia, characterised by the use of fresh and aromatic ingredients such as herbs, spices, lemons, limes and chillies. Vietnamese dishes are often light and healthy, with many vegetarian and fish options.
Popular dishes include pho, a noodle soup made of beef or chicken broth with fresh herbs and soybean sprouts, and banh mi, a sandwich stuffed with meat, vegetables and mayonnaise.
Vietnamese coffee is also world famous, prepared with finely ground coffee, condensed milk and crushed ice.
In addition, Vietnamese cuisine is influenced by Chinese and French cuisines, which are reflected in some of the more sophisticated dishes such as banh xeo, a rice crepe stuffed with pork, prawns and soy sprouts.
Tasting pho, banh mi and other traditional local dishes while cycling across Vietnam is certainly an unforgettable culinary experience, but also a true sensory journey that satisfies the most discerning palates.
4. The friendly Vietnamese people
The Vietnamese people are known for their kindness and friendliness. The villagers usually welcome foreign visitors with great warmth and generosity, showing a strong sense of hospitality and respect.
It is not uncommon for Vietnamese to offer to share their food or to show tourists the most beautiful and interesting places in their country. Moreover, these people are known for their patience and kindness in teaching their language and culture to foreign visitors.
Thanks to their friendship and helpfulness, the Vietnamese people make the experience of cycling in their country even more enjoyable and unforgettable, making each encounter an opportunity to learn something new and have an authentic experience.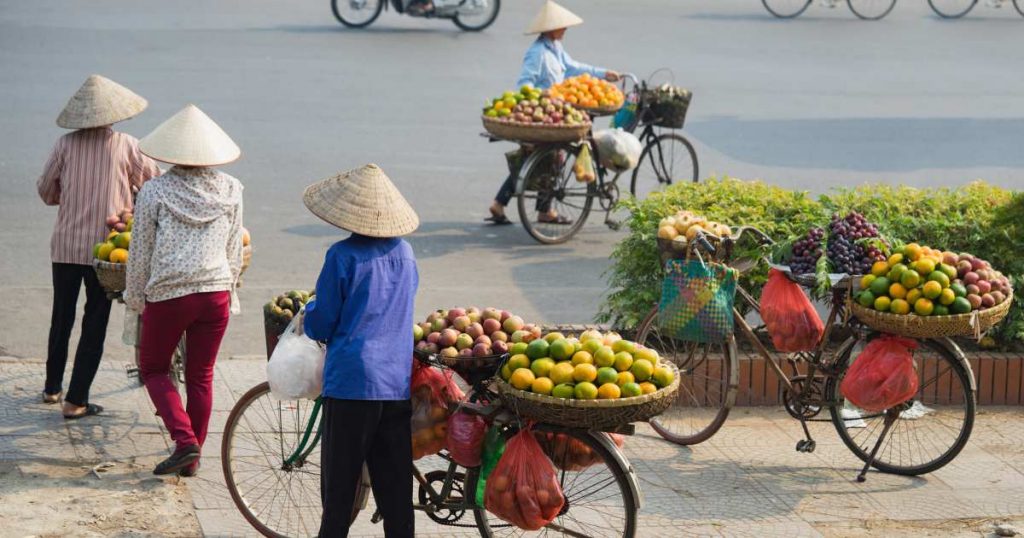 Vietnam's best cycling routes
Vietnam offers a wide variety of cycling routes, winding through breathtaking landscapes, cities rich in culture and tradition, rural villages and dream beaches.
The Vietnam coast by bike
Among the most famous routes, the Ho Chi Minh Cycle Track, which follows the famous Vietnam War route, is an exciting experience for cyclists with a passion for history and culture. The route passes through historic cities such as Hue and Hoi An, passing monuments and museums that tell the story of the conflict.
The city of Hoi An offers beautiful views of the countryside and rice fields. The cycle route through the Hoi An countryside is a unique experience, with the possibility of stopping along the way to discover rural life and local traditions. Don't forget to visit the city's old wooden houses, temples and local markets.
The Hai Van Pass coastal road, on the other hand, is a scenic route offering breathtaking views of the South China Sea. The road runs along the central coast of Vietnam, crossing mountains and hills, with spectacular views of Lang Co Bay. The climb to the Hai Van pass is challenging, but the panoramic view of the coast is definitely worth it.
The Mekong Delta is a fascinating mosaic of canals, swamps and traditional villages. The cycle route runs through the heart of the delta, offering the opportunity to discover the daily activities of local residents, such as fishing, farming and weaving. There are many interesting stops along the way, such as floating markets, temples and craft villages.
Vietnam's hinterland
The Mai Chau Valley, located about 140 km south-west of Hanoi, is a mountainous region that is home to numerous minority tribes. The cycle route crosses hills and rice fields, offering a panoramic view of the valley. Here you can take a break and visit the villages of the tribes, discovering their culture and tradition.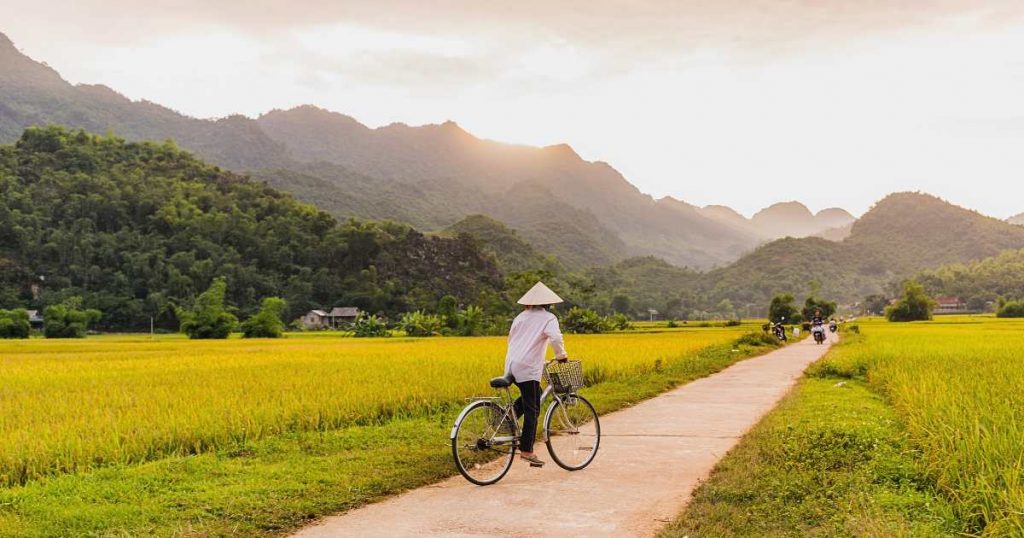 Book your trip to Vietnam by bike
Regardless of the route you choose, Vietnam offers a unique and exciting cycling experience that you will not easily forget. Along the routes, it is possible to meet friendly and hospitable people, discover the culture and tradition of the country and enjoy breathtaking landscapes that will remain in one's memory forever.